Agriculture
Preserving Local Family Farms and Protecting Open Spaces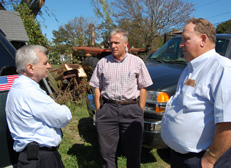 In addition to providing food, Rhode Island's working farmland is critical to preserving our environment and maintaining a diverse economy.
Senator Reed has worked hard to ensure that Rhode Island family farmers and their employees can remain competitive and productive. His efforts helped save local dairy farms so Rhode Islanders continue to have access to fresh and affordable dairy products.
Small, family farmers deserve help, but big corporate agribusiness does not. That is why Reed has long advocated for ending wasteful federal farm subsidies. Reed wants to save taxpayers money and reduce the deficit by ending out-dated subsidies.
Read More Accomplishments »
Key Priorities & Accomplishments
To protect consumers and keep the nation's food supply safe from contamination, Reed helped pass the FDA Food Safety Modernization Act. This law will make the food supply safer for consumers, hold producers accountable, and protect the livelihoods of Rhode Island family farmers.
Secured federal assistance to help Rhode Island farmers recover from natural disasters and for agriculture conservation programs to help promote farming practices that are environmentally responsible.
Reed supported the FRESH Act, a pro-farmer, pro-consumer, pro-nutrition bill that aimed to protect Rhode Island's open spaces and save taxpayers money by replacing out-dated federal farm subsidies with a reformed insurance program for all American farmers.
Helped provide $3.5 million in federal funding to protect Rhode Island's local farms through the Farm and Ranchland Preservation Program and $1.9 million to help preserve 140 acres of Ferolbink Farm, an iconic coastal farm that will be protected from future development.
« Hide
The Latest
U.S. Senator Jack Reed tours Groundwork Providence's Community Garden and Tree Nursery in Providence for a firsthand look at to increase Providence's tree cover to 30 percent by the year 2020 to improve public health. Over the years, Reed has supported Groundwork Providence's efforts by secu...

...

U.S. Senator Jack Reed joins local farmers at Escobar's Highland Farm in Portsmouth to announce a new federal grant for the Rhode Island Dairy Farms Cooperative, which produces Rhody Fresh Milk, to help strengthen and expand its business operations. ...

Mr. REED. Mr. President, Senator Inhofe is proposing a very sweeping amendment that would affect a rule the EPA has developed over the normal rulemaking process, with notice and comments over many, many, many months. It is scheduled to go into effect in May of this year. The amendment the Senator is off...

Madam President, the Agriculture Reform, Food, and Jobs Act of 2012, also known as the farm bill, makes some strides in reforming agriculture policy and subsidies. However, in my view, these reforms are not sufficient. Moreover, the bill contains cuts to nutrition and conservation programs and changes to eligibi...

U.S. Senators Jack Reed and Sheldon Whitehouse today announced that the U.S. Department of Agriculture (USDA) has approved natural disaster declaration assistance for all Rhode Island farmers that suffered damage as a result of Tropical Storm Irene. This declaration...

U.S. Senators Jack Reed and Sheldon Whitehouse today announced that the U.S. Department of Agriculture (USDA) has approved a disaster declaration for nine Massachusetts counties, which will also benefit farmers in the adjacent Rhode Island counties of Bristol, Newport, and...