Education
Investing in Our Children's Future and Improving Rhode Island's Schools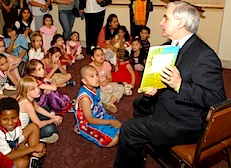 Good schools are essential to our communities and our economy, and Senator Reed is working hard to help all our schools make the grade. This means strengthening education from pre-school through college and beyond.
Parents are children's first teachers, and Senator Reed continues to work to strengthen family engagement in education. Senator Reed introduced the Family Engagement in Education Act to ensure that schools have the tools they need to effectively partner with parents. He also fights for Head Start and other initiatives so that all kids have access to good pre-schools and local communities can expand effective afterschool programs.
Senator Reed strongly believes that every student with the drive to attend college should have the opportunity to go. That is why he has authored bipartisan measures to increase Pell Grants and other need-based financial aid for students.
Read More »
Senator Reed believes the more we do to support effective teaching and effective school leadership, the better results we will get for students. He has a new bill to improve the professional development and mentoring of educators that builds on laws he authored to reform the recruitment, training, and retention of teachers.
Key Priorities & Accomplishments
Senator Reed worked to ensure that investing in education was a key component of our economic recovery strategy. Since 2009, Rhode Island received over $430 million in additional funding to stabilize the state education budget and support education reforms. Rhode Island college students alone benefitted from an additional $73 million in Pell grants.
Senator Reed's Improving Literacy Through School Libraries program has provided over $100 million for school libraries to purchase books and computers, train librarians, and stay open longer so that more kids have access to educational opportunities.
To help make college more affordable for Rhode Islanders, Reed helped pass the largest investment in college aid in history – ending a flawed system that gave away billions in federal subsidies to private banks and putting those taxpayer dollars directly in the hands of students to pay for their education.
Senator Reed annually hosts a free College Financial Aid Workshop to help college-bound students and their families get a better sense of the financial aid options available at the federal and state levels; the eligibility criteria for these different types of aid; and how students can go about applying for it.
« Hide
The Latest