Energy
Fighting for Energy Independence and Investing in Clean Energy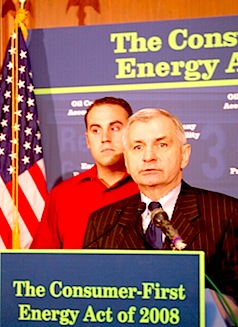 Senator Reed has fought for a national energy policy that creates jobs and saves families and businesses money through improved efficiency for cars, appliances, and insulation. Investing in clean energy increases American competitiveness and helps cut down on pollution.
Reed led the fight to crack down on excessive market manipulation, which can inflate energy prices. He also cosponsored legislation to improve vehicle fuel efficiency standards.
To make America more energy independent he has supported efforts to safely and responsibly increase domestic oil and gas production. And to help protect taxpayers and the environment, Reed, who chairs the Appropriations Subcommittee on Interior and Environment, wants stronger oversight of energy companies drilling in public lands and waters to provide better inspections of drilling facilities and to ensure energy companies are paying their fair share of royalties to the American people.
Read More »
Reed is also the leading champion of the Low-Income Home Energy Assistance Program (LIHEAP), a federal grant program that provides states with money to help seniors and low-income households afford their energy bills.
Key Priorities & Accomplishments
Under Reed's leadership, LIHEAP funding has increased over the last decade to over $250 million to meet the needs of Rhode Islanders.
Reed succeeded in convincing both the Bush and Obama Administrations to form federal task forces to help ferret out unscrupulous and excessive speculative conduct in the energy commodity markets.
Reed helped pass a landmark energy bill that raised fuel efficiency standards for cars and light trucks for the first time in thirty-two years, saving consumers more than $3,000 in fuel costs over the lifetime of new vehicles. The law also provided incentives for increased efficiency in buildings and homes and improves lighting and appliance efficiency standards.
Over the last five years, Reed has helped secure over $25 million in federal weatherization assistance to help create green jobs and enable more Rhode Islanders to make energy-efficiency improvements to reduce their energy bills.
« Hide
The Latest