Homeland Security
Keeping America Safe at Home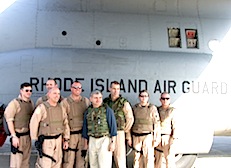 Senator Reed knows that real security begins with making sure our communities are safe places to live, work, and raise a family. That is why he helped pass legislation to put more cops on the beat. In an effort to help police, firefighters, and medical personnel respond to natural disasters and emergencies, Senator Reed voted to invest in interoperable communications equipment so Rhode Island officials can better coordinate their response.
To protect Americans from terrorism, Senator Reed supported the effort to implement the recommendations of the independent 9/11 Commission.
He held the Senate's first hearing on securing our nation's mass transit system after 9/11. He has also supported efforts to strengthen possible terrorist targets like public transportation systems and nuclear and chemical plants and safeguard our nation's borders, airports, and seaports.
Read More »
Reed also believes that securing our homeland means more than just defending America against terrorist threats abroad. It means providing local law enforcement here at home with the tools they need to keep our streets safe and maintaining a strong, well-equipped National Guard that can rapidly respond to emergencies in Rhode Island and across the country.
Key Priorities & Accomplishments
Since 2007, Reed secured $19.7 million in anti-terror funding to help Rhode Island prevent and respond to terrorist attacks and other emergencies.
As a member of the Armed Services Committee, Reed has focused on combating terrorism at home and abroad and preventing the spread of weapons of mass destruction. He has carefully examined the effectiveness of counter-drug programs in Afghanistan and the Western Hemisphere, and highlighted emerging threats to our security, such as cyber-warfare and technological capabilities and what our government must do to address them.
To ensure the U.S. Coast Guard maintains a strong presence in the Ocean State and to help keep Rhode Islanders safe, Reed secured more than $23.5 million to make facilities improvements at Naval Station Newport to provide a permanent home for three Coast Guard cutters and their crews.
Reed helped bring a new Department of Homeland Security Center of Excellence for Explosives Detection, Mitigation, and Response to the University of Rhode Island (URI) to develop new homeland security solutions.
« Hide
The Latest