Housing
Affordable Housing is Key to a Strong Economy and a Healthy Community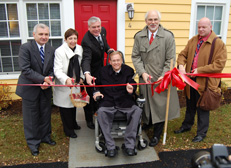 Senator Reed is working hard to help stabilize the real estate market for homeowners, renters, and businesses so our economy can recover.
Reed has long championed efforts to make affordable rental housing options available to more Americans, and wrote the law creating an affordable housing trust fund to build, preserve, and rehabilitate affordable rental homes.
As the New York Times noted: "Mr. Reed has had a passion for housing issues throughout his career. Beginning in the early 1980s when, as a young lawyer, he did pro bono work for Amos House, a Providence soup kitchen and social service agency, and continuing after his election to the Rhode Island Assembly, the House and finally the Senate."
Read More »
He has also been a champion of fixing America's broken foreclosure process. In an effort to protect consumers and hold banks and servicers accountable for providing relief to qualified homeowners, Reed introduced the Preserving Homes and Communities Act. This bill would establish a clear set of rules and procedures in order to prevent more faulty foreclosures and to protect troubled borrowers who have been misled into expecting loan modifications that never materialized.
Key Priorities & Accomplishments
Reed helped preserve the low-income housing tax credit (LIHTC), a program that has helped construct nearly 12,500 units of affordable rental housing in Rhode Island and generated over $100 million in revenue for cities, towns, and the state.
To help bolster Rhode Island's economy and provide qualified homeowners with additional resources to prevent foreclosures, Senator Reed has secured over $105 million in federal foreclosure prevention funds through the Hardest Hit program, which is administered by Rhode Island Housing, and Neighborhood Stabilization Program funds.
To help communities nationwide reduce homelessness, Senator Reed wrote and passed the bipartisan Homeless Emergency Assistance and Rapid Transition to Housing (HEARTH) Act. This law simplified and consolidated competitive HUD homelessness assistance programs and allowed more funding to flow to communities that demonstrate a commitment to preventing and ending homelessness.
Reed increased funding to remove lead based paint from homes, educate families about the dangers of lead poisoning, and train inspectors and workers to identify lead contamination in housing. Since 1998, Senator Reed has helped secure over $40 million for Rhode Island lead poisoning prevention programs.
« Hide
The Latest