Natural Disasters & Emergency Response
Enhancing Rhode Island's Emergency & Disaster Preparedness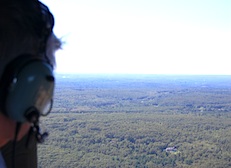 Rhode Island's coastal location makes it susceptible to natural disasters such as flooding, hurricanes, and snowstorms. And when disasters have struck, Senator Reed has been there to help Rhode Islanders recover.
When the historic flooding of 2010 hit Rhode Island, Reed helped ensure over $200 million in federal flood assistance to help families, businesses, and communities rebuild.
The best way to cope with a natural disaster and limit the damage is to plan ahead and be prepared. Senator Reed has supported forward-thinking measures to enhance our emergency preparedness and improve our critical infrastructure. He helped secure millions of dollars to upgrade the Providence Emergency Management Agency (PEMA) and increase security at the Port of Providence
Read More »
As a member of the Appropriations Committee, he secured federal funding for local communities to create a unified, interoperable, emergency communications system so that first responders and law enforcement can effectively communicate with each other during emergencies. He also directed federal dollars to Rhode Island to update vital drainage systems across the state to help prevent flooding in the future.
Key Priorities & Accomplishments
In 2009, Reed helped secure $8.26 million in federal funding to make repairs and undertake flood protection and water restoration initiatives at Fox Point Hurricane Barrier, Woonsocket's floodwall, Ten Mile River, and the Blackstone River Watershed.
Reed authored the National Flood Mapping Act, which was approved by the Senate, to make sure flood maps are up to date so businesses and homeowners know if they are at risk of flooding.
Reed secured a federal income tax filing extension for Rhode Islanders affected by the 2010 floods.
To enhance public safety and save Rhode Island taxpayers millions of dollars, Reed helped transfer responsibility for the Fox Point Hurricane Barrier and the Woonsocket Dam and flood control levees to the U.S. Army Corp of Engineers. This takes the economic burden of operating and maintenance costs off of the city of Providence and Woonsocket and helps prevent local homeowners living downstream from costly increases in flood insurance.
« Hide
The Latest