Veterans
Honoring Our Commitment to Those Who Serve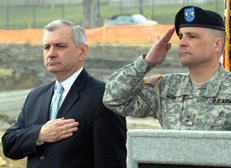 As a West Point graduate and former infantry officer, Senator Reed knows what it means to serve, and he understands the dedication of so many men and women who make great sacrifices to serve our country in uniform.
Reed also believes that we must keep our commitment to our veterans and their families by ensuring they have access to the quality, affordable benefit programs they have earned and by helping them transition back to civilian life.
As a member of the Appropriations Committee, he helped pass the largest veterans' budget in history to support veterans, and significantly improved resources to treat Traumatic Brain Injury and Post-Traumatic Stress Disorder for those returning from Iraq and Afghanistan. Reed also helped pass the Post-9/11 G.I. Bill, providing better benefits to veterans and their families for college and job training after their service.
Read More »
In an effort to reduce the backlog of veterans' disability claims, eliminate bureaucratic delays, and deliver benefits to veterans more quickly and efficiently, Reed worked with the VA to make Providence the first Regional VA office in the nation to install a new Veterans Benefit Management System (VBMS).
Key Priorities & Accomplishments
Reed helped enact into law the Veterans Health Care Budget Reform and Transparency Act, which requires a two-year budget for VA medical programs, ensuring better care for our nation's veterans.
Reed worked with the Department of Veterans Affairs to provide over $5.7 million to upgrade the hallowed grounds of the Rhode Island Veterans Memorial Cemetery in Exeter and expand the cemetery for our veterans and their spouses. He also secured over $12 million in Recovery Act funding to renovate the Providence VA Medical Center and the Rhode Island State Veterans Home in Bristol.
Reed wrote the law to create the Office of Service Member Affairs within the Consumer Financial Protection Bureau (CFPB) to strengthen consumer protections for military families.
Reed introduced the Zero Tolerance for Veterans Homelessness Act to help prevent veterans from becoming homeless. Reed's proposed legislation would enable the VA to keep at-risk veterans in stable housing and offer increased assistance to veterans who have fallen into homelessness.
« Hide
The Latest
U.S. Senator Jack Reed helps commemorate the lives lost in the bombing of the 1st Battalion, 8th Marines HQ building in Beirut, Lebanon on October 23, 1983. Two Hunderd and Forty-One Marines, Sailors and Soldiers - including nine Rhode Islanders – were killed in the initial attack. 29 others...

In an effort to protect soldiers and their families from abusive financial practices, a group of 23 U.S. Senators, led by Jack Reed (D-RI), Dick Durbin (D-IL), and Mark Udall (D-CO), is urging Department of Defense (DOD) Secretary Chuck Hagel to close a loophole that allows lenders...

As part of their continuing efforts to provide suitable housing for disabled and low-income veterans, U.S. Senators Jack Reed (D-RI) and Mike Johanns (R-NE) today reintroduced the Housing Assistance for Veterans Act (HAVEN Act). The HAVEN Act authorizes a competitive,...

In an effort to eliminate the U.S. Department of Veterans Affairs (VA) claims backlog, the Senate Appropriations Committee today approved a 10-point plan backed by U.S. Senator Jack Reed (D-RI) to improve veterans claims processing in the spending bill for the fiscal year that begin...

In an effort to help prevent veteran homelessness, Rhode Island's Congressional delegation today announced grants for two veteran advocacy non-profits. Operation Stand Down Rhode Island (OSDRI) will receive over $1.3 million from two separate federal grants to help provi...

Posted on 5/26/2013 | Veterans
In an effort to eliminate bureaucratic delays and deliver benefits to veterans more quickly and efficiently, U.S. Senator Jack Reed (D-RI), a former Army Ranger and a member of the Armed Services and Appropriations Committees, today joined with Appropriations Committee Chairwoman Ba...