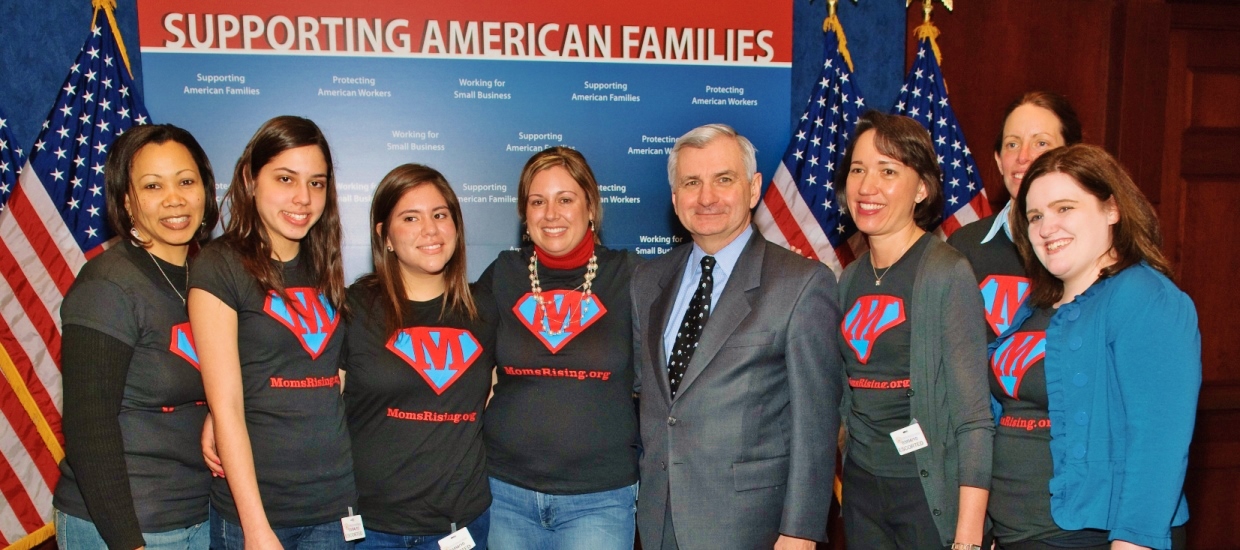 A Champion for Rhode Island's Working Women and Men
Throughout his career, Senator Reed has been a champion for middle class Rhode Islanders.
Reed has fought to ensure that everyone has the right to a safe workplace, fair wages, decent benefits, and the ability to organize and have their voices heard.
Reed has repeatedly voted to boost the minimum wage and has sought to ensure that employees receive the overtime pay they deserve. To help workers who are dealing with a seriously ill family member or preparing for the birth or adoption of a new child, Senator Reed strongly supported passage of the Family and Medical Leave Act (FMLA).
As a member of the Appropriations Committee, he has also secured critical federal funding to bolster Rhode Island's economy, create more high-paying jobs, and expand opportunities for local businesses and their employees.
In an effort to help unemployed Rhode Islanders who are trying to find work, Reed continues to fight for job training investments and to provide unemployment insurance benefits so people can pay their bills while looking for a new job, which economists say is one of the most effective ways to aid the economy.
Key Priorities & Accomplishments
Senator Reed believes that women and men performing the same job should earn the same salary. He helped pass the Lilly Ledbetter Fair Pay Act and strongly supports the Paycheck Fairness Act.
In an effort to increase quality manufacturing jobs in Rhode Island, Senator Reed, as Chairman of the Armed Services Subcommittee on Seapower, secured over $17 billion for submarine shipbuilding, which will fortify the state's defense and manufacturing industries for years to come.
Reed served on the conference committee that crafted the bipartisan Middle Class Tax Relief and Job Creation Act, which extended and reformed unemployment insurance programs. The Act also included his work-sharing legislation, which has helped employers prevent layoffs in the wake of the financial crisis.
Reed fought to ensure workers who are laid off by companies as a result of increased imports or shifts in production out of the United States are eligible to receive Trade Adjustment Assistance (TAA) and any other qualifying benefits, services, and training to get them back into the workforce quickly.
Reed supports strengthening and expanding the Earned Income Tax Credit and the Child Tax Credit, making the tax code fairer and rewarding those who work hard and play by the rules.
Reed is a cosponsor of the Keep Our Pension Promises Act, which would reverse a provision passed in 2014 that could result in deep pension cuts for millions of retirees and workers in multi-employer pension plans
Reed updated the tax code to help working families keep more of what they earn and provide tax breaks to companies that invest in American workers.
Reed has focused on improving job training and placement so that workers can build their career skills and companies have access to a well-trained, educated workforce.
Reed has taken action to raise the minimum wage to help lift millions of working families out of poverty and supporting pay equity so that working men and women receive equal pay for equal work.
Reed has worked to protect the retirement security of all Americans by strengthening and safeguarding Social Security, Medicare, and Medicaid.
Read more by visiting Senator Reed's Working for RI page.