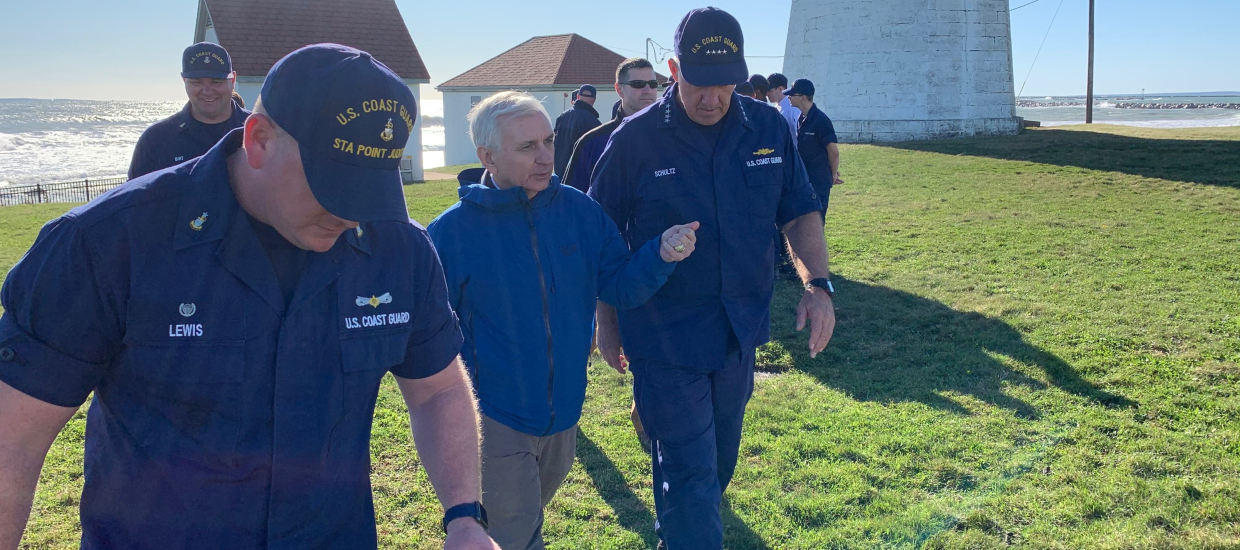 11/01/2019 —
NEWPORT, RI – Today, U.S. Senator Jack Reed welcomed Coast Guard Commandant Admiral Karl Schultz to Rhode Island to tour the Ocean State's Coast Guard assets and facilities.
Senator Reed and four-star Admiral Schultz travelled around the state and met with the crew of the USCG Escanaba (a 270 foot long vessel medium endurance vessel, with a crew of 105 men and women), which was docked at the Coast Guard wharf at Naval Station Newport. During the tour, they discussed the Coast Guard's vital mission in Rhode Island, the state's growing maritime industry, and the future of the Coast Guard fleet, among other topics.
With 41,000 active-duty personnel and 8,000 civilian employees, the Coast Guard has many responsibilities for protecting our nation, enforcing our laws, supporting commerce, and saving lives at sea.
The U.S. Coast Guard has a considerable presence in Rhode Island, with 300 active-duty personnel, 50 in the Reserves, and another 45 civil servants. The Coast Guard is responsible for patrolling over 384 miles of Ocean State shoreline and has an annual operating budget in the state of about $58 million.
"I am pleased to welcome Admiral Schultz to the Ocean State and grateful to the men and women of the Coast Guard for the outstanding work they do across the globe and here in Rhode Island. From saving lives, to stopping drug smugglers, to keeping commerce flowing across the waves, the Coast Guard performs several key missions, and we are grateful for the unwavering dedication and professionalism of our Coast Guard members," said Senator Reed. "The Coast Guard has a strong, active presence here in Rhode Island, and we'd like to see it grow even stronger. We've made key investments and we have a great location that make Rhode Island an ideal place for Coast Guard resources."
A senior member of the Appropriations Committee, Senator Reed helped secure over $30 million for the Coast Guard and U.S. Navy to upgrade waterfront facilities at Naval Station Newport. Currently, Newport is home to three Coast Guard buoy tenders, CGC Oak, CGC Sycamore, and CGC Ida Lewis, as well as the Patrol Boat CGC Steelhead.
According to the Coast Guard's Maritime Commerce Strategic Outlook, which focuses on preparing for emerging challenges, 90 percent of U.S. imports and exports arrive and depart by ship, and by 2025 worldwide demand for waterborne commerce is expected to more than double.
The Coast Guard's responsibilities include Search and Rescue (SAR), Maritime Law Enforcement (MLE), Aids to Navigation (ATON), Ice Breaking, Environmental Protection, Port Security and Military Readiness. Although it is part of the U.S. military service, the Coast Guard does not fall under the Department of Defense. Instead, the Coast Guard falls under the jurisdiction of the Department of Homeland Security.