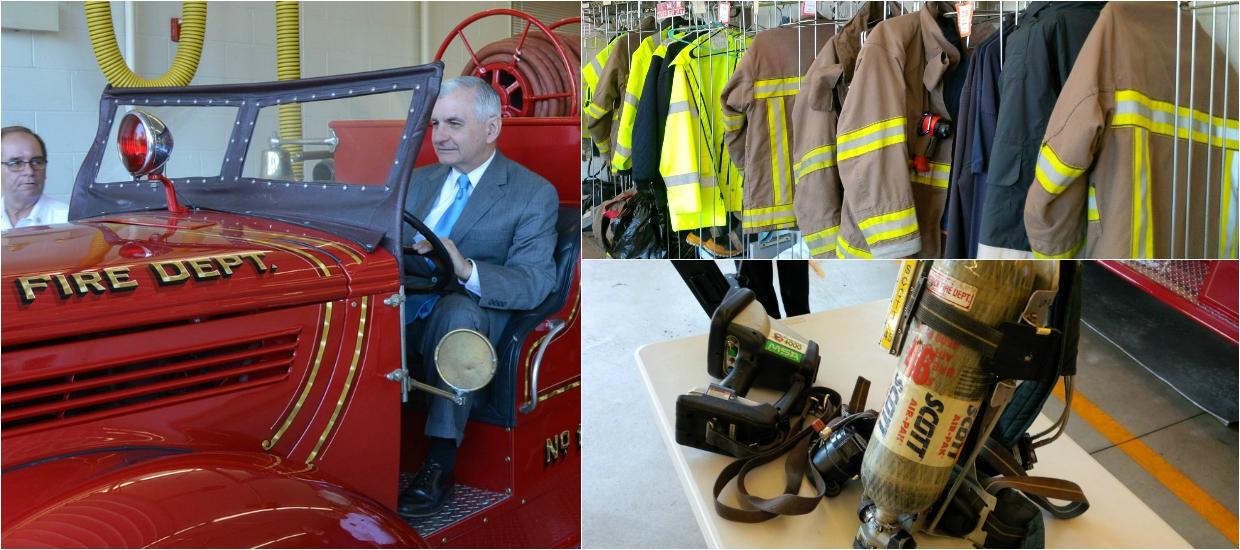 4/24/2015 —
PROVIDENCE, RI – Today, U.S. Senators Jack Reed and Sheldon Whitehouse and Congressman Jim Langevin announced over $628,000 in federal grant funding for the Johnston Fire Department and the Rhode Island Fire Academy.
Johnston firefighters will receive $430,184 to upgrade communications systems and the Fire Academy will receive $198,261 for new roadside emergency equipment and breathing apparatuses. Senators Reed and Whitehouse and Congressman Langevin supported the firefighters' successful grant applications to the Federal Emergency Management Agency (FEMA).
The funding comes from FEMA's Assistance to Firefighters Grant Program (AFG), which is designed to help fire departments and emergency medical service organizations meet their equipment, training, and other needs.
The Johnston Fire Department will use the funding to acquire new radio equipment – including 46 portable radios and 21 mobile radios – as well as training and software needed to modernize its communications system. The upgrades will allow the Department to operate on the Rhode Island state-wide communications network managed by the Rhode Island Emergency Management Agency.
The Fire Academy will use the funding to purchase new hydraulic vehicle extrication equipment (commonly known as "jaws of life") and 25 self-contained breathing apparatuses (SCBAs) to use during training.
"This federal funding will help ensure Johnston firefighters and the Rhode Island Fire Academy have the tools and equipment they need," said Senator Jack Reed, who leads an annual fire grant workshop to help fire departments across the state apply for competitive federal assistance. "I appreciate the hard work that Mayor Polisena, Fire Marshall Chartier, Fire Academy Director Pare, their teams, and all our firefighters put in to keep our communities safe. I will continue working hard to provide federal assistance to help staff and equip our fire departments throughout Rhode Island and ensure they have the state-of-the-art equipment they need to be effective."
"Rhode Island firefighters put themselves in harm's way to protect our communities," said Senator Sheldon Whitehouse. "It's up to us to provide them with the tools and training necessary to do their jobs and keep them as safe as possible. I'm happy to see this support headed to Johnston and the Fire Academy, and I congratulate them on successful grant applications."
"Tight municipal budgets have forced Rhode Island fire departments to do more with less, and they have risen to that challenge with professionalism, courage and commitment, not to mention exceptional service to their communities," said Congressman Jim Langevin. "I am thrilled that more than half a million dollars is coming to our state to support firefighters. I know both Johnston and the Fire Academy will put these funds to good use in further enhancing public safety."
"This grant will help the Town of Johnston improve our communications and allow our fire department to become more efficient. I would like to personally thank our federal delegation for their hard work and diligence in assisting our town to obtain this grant," said Johnston Mayor Joseph Polisena.
"The RI Fire Training Academy wishes to thank our RI Federal Delegation for their support of our request for funds through the AFG. This is the second year in which Fire Training Academies have been eligible for grant awards. The RI Fire Training Academy has been awarded a grant this year for the purchase of Self Contained Breathing Apparatus, and one set of Hydraulic Rescue Tools. This award will allow the RIFTA to continue to offer the most up to date training to the firefighters of the State," said Mark Pare, Director of the Rhode Island Fire Academy.
-end-