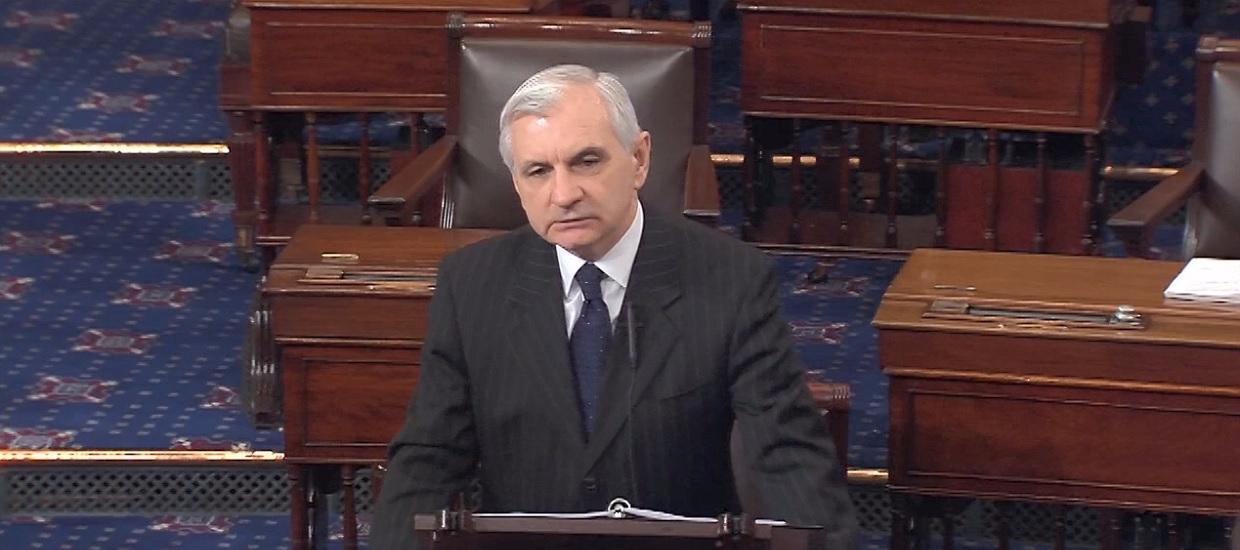 3/23/2017 —
Mr. President, I rise today to discuss the deep and growing concerns about Russia's interference in the U.S. 2016 presidential elections and the implications of Russia's broader malign activities for our national security. On Monday, we learned from FBI Director Comey that there is an investigation into Russian interference in the 2016 presidential election and whether associates of then-candidate Donald Trump were communicating with Moscow. It is absolutely essential that Congress and the American people get clear and comprehensive answers on first, what happened, second, what are Russia's strategic goals and intentions for further interference in democratic processes here and in Europe, and third, what we need to do to counter this threat going forward. That is why I have repeatedly called for an independent, transparent Special Counsel to investigate the legal aspects of Russian efforts to influence our election, and a bipartisan select committee within the Senate to look into all aspects of Russia's destabilizing activities here and around the world.
I am concerned that the politicization of the issue of Russia's interference in our elections and its hostile actions against western institutions and values is diverting our attention from what otherwise should be recognized as a clear and potent threat to America's security. We need to focus on what is critical: Russia is attacking American democracy as part of an even broader assault on our cornerstone NATO alliance, and the post-Cold War international order. The threat posed by Russia's actions is not merely "fake news," as serious as that phenomenon may be, but a very real, very strategic threat to U.S. interests. Russia is testing America and the Tran-Atlantic community across multiple fronts. Today, I will highlight just how broad and fundamental this threat from Russia really is.
What should be clear to everyone is that last year Russia engaged in a systematic and strategic effort to influence the U.S. presidential elections. While we do not know all the details of Russia's involvement, we know that in January, the U.S. intelligence community, including the CIA, the FBI and the Office of the Director of National Intelligence (ODNI), issued its assessment that Russia engaged in a bold and unprecedented effort to influence and undermine trust in the U.S. presidential election. Among the January intelligence report's findings were the following:
First, that President Putin "ordered an influence campaign in 2016 aimed at the U.S. presidential election."
The intelligence community also found that "Russia's goals were to undermine public faith in the U.S. democratic process, denigrate Secretary Clinton, and harm her electability and potential presidency."
The report further found that Russia's influence campaign was multifaceted and included covert intelligence operations, such as cyber espionage against U.S. political organizations like the Republican National Committee and the Democratic National Committee. It combined the release of hacked information with overt propaganda efforts through Russian Government agencies, state-funded media, third-party intermediaries, and paid social media actors or "trolls."
Another key finding was that Russia's influence efforts in the 2016 U.S. presidential election reflects, in the words of the intelligence community, "a significant escalation" compared to previous information operations.
The intelligence community also warned that these Russian activities, including "cyber-enabled disclosure operations" likely represent a "new normal" in Russian conduct towards the United States and our allies and partners.
The intelligence community further assessed that Russia will use the lessons learned from the 2016 U.S. presidential election to influence future elections in the United States and overseas. And we do not have to look far for evidence supporting this conclusion.
Russia is alleged to have targeted an April 2016 referendum in the Netherlands on a partnership agreement between the European Union and Ukraine, which was overwhelmingly rejected by Dutch voters. This year, Russia is openly intervening in France's presidential election to be held in April. For example, Russia has loaned tens of millions of dollars to the far-right National Front Party in France, whose leader Marine Le Pen has defended Russia's annexation of Crimea and criticized international sanctions against Russia. Germany, which holds parliamentary elections in September, has also been targeted by Russian hackers and trolls –straight out of the Kremlin playbook we saw used here last year. Russia is attempting to steadily erode the integrity and western orientation of multiple Eastern European countries through a variety of state and state-controlled or state-influenced activities. These coordinated and focused Russian operations threaten to undermine European cohesion which underpins the post-Cold War international order. This pattern of Russian interference will only intensify with time if it goes unchallenged.
Russia's malign activities also threaten our core security relationships with our trans-Atlantic allies and partners. The NATO alliance has been the bedrock of our security relationship with our European allies. Since the end of the Cold War in the early 1990s, countries in Central and Eastern Europe have aspired to integrate more closely with the West, whether militarily through NATO membership or economically with the European Union, or both. But President Putin rejects the post-Cold War international order and seeks to re-establish a Russian sphere of influence over his immediate neighbors by weakening democracy, collective security, and economic cooperation across the region.
In pursuit of this strategic goal, Putin has demonstrated a willingness to use all tools at his disposal, including cyber hacking, disinformation, propaganda, economic leverage, corruption, and even military force, to violate the sovereignty of Russia's neighbors and undermine support for their further integration into Europe. Since 2008 in neighboring Georgia, Russia has occupied two regions and recognized their independence, which the international community widely condemns as a violation of Georgia's territorial integrity. Georgia's aspirations since the 2008 Bucharest Summit to join the NATO alliance have been on hold.
In Ukraine, Russia's illegal annexation of Crimea and its continuing support to Russian-led separatists in eastern Ukraine are part of Putin's strategy of destabilizing the Kyiv Government and blocking Ukraine's further integration westward. Putin has repeatedly used influence operations, to hide the presence of "little green men" on Ukrainian soil, to spread disinformation about Ukrainian political leaders, and to influence financially corrupt Ukrainian oligarchs to support Russia. Putin is also using propaganda and other influence activities to try to break Western unity in support of U.S. and EU sanctions intended to pressure Russia to comply with its commitments under the Minsk agreements for ending the conflict in Ukraine. It is critically important to maintain, and potentially strengthen, these sanctions to change Russia's aggressive behavior and get to a peaceful political settlement to end the fighting in Ukraine.
In Montenegro, it appears that Russia has added political assassination as a potential weapon to block an Eastern European country from pursuing membership in NATO. Last month the British press reported that "Russian nationalists" under the direction of Russian intelligence officials plotted to assassinate then-Prime Minister Djukanovic during Montenegro's elections in October. According to these reports, Montenegrin authorities foiled the assassination attempt just hours before the plot was to be carried out. This attempted coup-d'état represents a new and dangerous level of interference by Russia to discourage Montenegro and others from further integrating into the West.
As some of my colleagues have read in the February 14 New York Times article, Russia has fielded a missile system that violates the Intermediate-range Nuclear Forces, or INF Treaty - a ground-launched intermediate-range nuclear missile that threatens all of NATO. The INF Treaty was signed by President Reagan and Mikhail Gorbachev in 1987. This landmark treaty dramatically reduced Cold War nuclear tensions by eliminating an entire class of ground launched ballistic and cruise missiles, which could have struck Moscow or Berlin in less than 10 minutes.
Now, Russia has moved nuclear-capable short-range ground-launched Iskander missiles to Kaliningrad, a Russian enclave between Poland and Lithuania. The Iskander missile's range threatens German borders – something not seen since the 1980s. The Iskander deployment runs counter to a détente that has been in place since 1989, when President Bush reduced U.S. conventional forces in Europe and Russia did the same in order to relieve destabilizing tension in the region and lessen the risk of escalation or miscalculation.
Furthermore, Russian aggression goes beyond the violations of the INF Treaty and the Iskander missile. During the 2014 invasion of Crimea, Russia practiced snap nuclear exercises to test the readiness of its armed forces to send a signal that there was a nuclear backstop to its invasion. More disturbingly, by invading Ukraine, Russia violated the Budapest Memorandum, a multilateral commitment in which Ukraine and three other former Soviet states pledged to transfer to Russia the nuclear weapons they retained after the collapse of the Soviet Union in return for Russian recognition of their sovereignty.
Besides unilaterally reneging on its Budapest commitments, in 2014 Russia has pulled out of the DOD and DOE Cooperative Threat Reduction programs, which secured nuclear materials at storage sites and national borders. Russia has some of the largest stockpiles of nuclear materials in the world, which are vulnerable to insider threats. In 2016, Russia suspended its participation in the agreement with the U.S. to convert 34 metric tons of weapons-grade plutonium for use as fuel for reactors.
Since the very beginning of the Cold War, nonproliferation and arms control agreements between Russia and the U.S. have always received a high priority from both countries, regardless of how relations in other areas went up or down. Russia's recent actions call into question whether this can continue.
Russian actions in Syria pose a further challenge to stability in the Middle East and the broader international community. Russia's military operations to prop up the murderous Assad regime belies Moscow's claim that it intervened to fight violent extremists, including ISIS and al Qaeda. Russia has provided significant political, economic and military support to Syrian President Bashir al-Assad, even as he has slaughtered tens of thousands of Syrian civilians and used chemical weapons against his own people. Russia has repeatedly exercised its veto power in the U.N. Security Council on behalf of the Syrian regime in defiance of international standards and U.S.-led peace efforts and, just last month, Russia vetoed a U.N. Security Council resolution seeking to punish Syria for using chemical weapons.
For all these reasons, we must recognize that Russia's alarming interference in our election is only one aspect of a much broader and dangerous threat to our core national security interests. Russia's malign behavior needs to be investigated fully, and in a manner that is free of political considerations. We need answers to key questions, including:
What are Russia's overall strategic security goals, and how do Russian influence activities in Europe and the United States advance those goals?
What are the tools of Russian influence? How has Russia used, or continues to use, those tools in influence campaigns in Europe? How do Russian activities in Europe compare to what was evident in the U.S. presidential election last year?
How has Russia used influence activities in concert with other unconventional warfare tactics and operational activities (for example, support to proxy forces in Ukraine and elsewhere)?
What is the threat these Russian influence activities pose to U.S. democratic institutions, to NATO, to the European Union, and to the Post-Cold War liberal order and value system?
What are the weaknesses and vulnerabilities in the United States and European countries that Russia is successfully exploiting and magnifying?
And finally, how can the U.S. government counter and deter Russia's influence activities, and what capabilities, structures and other resources are needed for these purposes?
An investigation of these questions would best be conducted by an independent, transparent outside body, appointed in a bi-partisan manner. However, if Congress cannot reach consensus to make that happen, then, as Ranking Member on the Senate Armed Services Committee, I intend to work with the Chairman to undertake the necessary effort within the Committee and across the Senate. I believe we can work in a bipartisan fashion on this critical threat to our national security. I look forward to shedding light on this issue and examining what we need to do as a country to defend against and deter Russian malign influence.
As a final point, we are focused, of course, on what happened in 2016, and that is of course in daily discussion in newspaper articles. One of the more sobering facts is that we have elections in process right now for 2018. Russia demonstrating the same interference could have an effect on that election. Indeed, they're showing that they're actually probing state election systems – the names of voters, how the state calculates votes. Nothing has been established that would suggest they attempted to influence that activity. But the simple probing suggests that we have much to do to protect ourselves moving forward.
Indeed, as much as looking back and finding out what went on in the 2016 election. For these reasons and many more, we have to work together and suggest and encourage a bipartisan way to get at the answers. Not just to look backwards, but to protect ourselves going forward. And with that, Mr. President, I yield the floor.