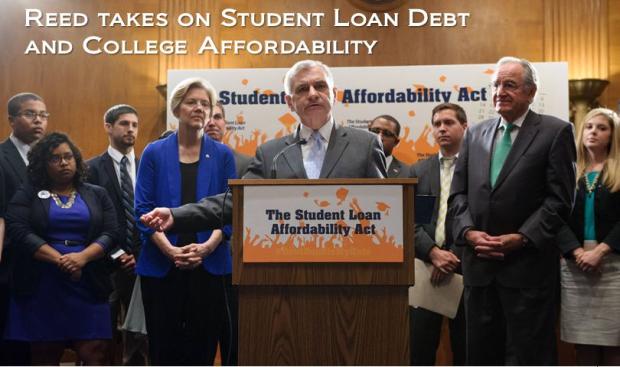 2/12/2014 —
Mr. Reed: Thank you, madam president. Madam president, what has made America strong is that we've provided opportunities for individuals to develop their talents.
Previous generations of Americans have recognized this and they've invested in higher education accordingly.
During President Abraham Lincoln's time the federal government invested in establishing a system of public colleges throughout the nation.
After World War II, we opened the doors of postsecondary education to our returning soldiers and sailors and airmen under the G.I. bill.
As part of the war on poverty we enacted the Higher Education Act with the idea no American should be denied the ability to go to college because their family lacked the means to pay for college.
Senator Pell, my predecessor, with the creation of the Basic Educational Opportunity Grant, later named the Pell grant in his honor, made that promise of a college education real for millions of Americans.
As part of the student aid programs, we invested in offering low-cost loans to create opportunity, spur innovation and grow our economy.
Our student loan programs were originally seen as an investment, not a profit center or even a cost-neutral proposition.
Today, our student aid investment has been stood on its head.
The Congressional Budget Office estimates we will be generating revenue through student loans through 2024.
And student loan debt has become a serious threat to our ladder of opportunity, our pathway to progress for this generation and for our economy.
And that is what brings me and my colleagues to the floor today.
We must turn the tide because too many students are drowning in debt and it has threatened to hold back a whole generation of young Americans when they could be buying a car, or starting a business.
As student loan repayment plans stretch out over 20 years or more, this generation will still be paying off student loans when it comes time to send their own children to college. And perhaps even taking care of their parents in their senior years.
The bottom line is we know that borrowers are struggling, and we know government could play a more constructive role in helping them and enacting reforms to increase fairness and transparency in this process.
The Federal Reserve Bank of New York recently reported that delinquency rates on student loan debt are increasing even as we see decreases in delinquency rates for other types of household debt.
The cohort default rates for student loans have been increasing. For borrowers who entered repayment in 2010, 14.7% had defaulted by 2013, up from 13.4% for those who began repayment in 2009.
It is essential that borrowers know about their repayment options. That is why Senator Durbin's Borrowers' Bill of Rights is so important and why I'm proud to be a cosponsor of his legislation.
But changing the trend of growing debt and rising defaults is more than a student loan servicing issue.
We have to provide a real avenue to allow individuals straining under the weight of the estimated $1.2 trillion in student loan debt, many with loans carrying an interest rate of 6.8% or higher, an opportunity to refinance those loans to a lower interest rate.
The GAO just reported that on loans made between 2007 and 2012, the federal government is estimated to make $66 billion. Clearly borrowers are paying more than they should.
We have to address these college costs.
But we also have to deal with the issue of giving colleges and universities their incentive, their skin in the game, to ensure that they carefully review their loans, that they direct students to the lowest possible loans, that they do this in a way that will make them truly responsible and conscious of the debt accumulated by students.
So I have been working on legislation to require that. So let me commend Senator Durbin, Senator Warren, and others for what they're doing to deal with this issue.
And with that Mr. Chairman, I would yield the floor to my other colleagues.