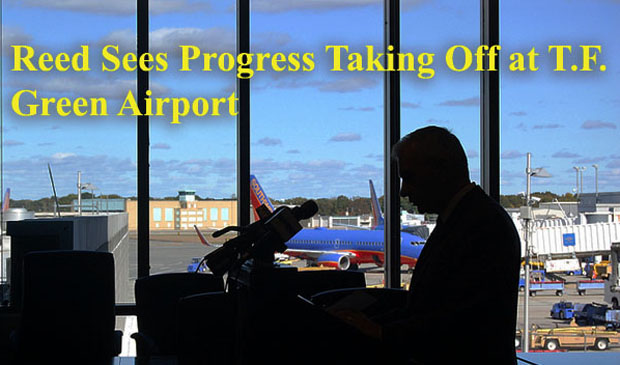 7/29/2013 —
WARWICK, RI – U.S. Senator Jack Reed today met with Rhode Island Airport Corporation (RIAC) officials to get a progress report on the T.F. Green modernization plan and a firsthand look at some of the work being done to improve the airport. Today, airport officials began preliminary work on the demolition of Hangar 1 on Airport Road. Hangar 1 is about 100 feet from the safety area of Runway 34-16, which is closed, and will remain closed through the fall, when work on extending the runway safety area to FAA requirements is complete.
Senator Reed, a member of the Appropriations Committee, has worked to encourage the FAA to invest in T.F. Green's safety and expansion projects, including an estimated $30 million to ensure that Runway 34-16 complies with federal aviation safety requirements.
In 2011, the Federal Aviation Administration (FAA) approved plans for T. F. Green to extend the primary runway, Runway 5-23, to the south by 1,530 feet to a total length of 8,700 feet. As part of this overall improvement plan, the airport is also expanding the runway safety area on the Runway 16-34, adding an engineered materials arresting system (EMAS) that will create an enhanced runway protection zone. Hangar 1 will be removed to eliminate an airspace obstruction near the runway.
"This is a smart, forward-looking investment that will help make the airport safer and more convenient for travelers and air carriers. Modernizing T.F. Green and expanding the runways will help attract new business and jobs to Rhode Island," said Reed.
All of the general aviation-related businesses and private planes that were formerly tenants of Hangar 1 have successfully relocated.