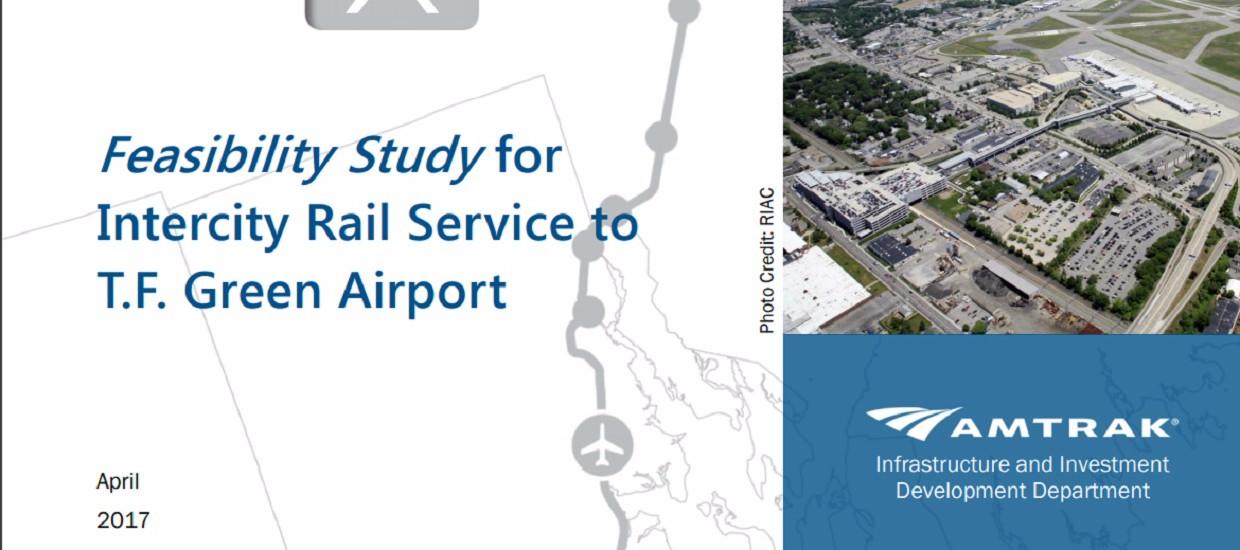 7/19/2017 —
WASHINGTON, DC - Rhode Island transportation officials and business leaders have long asked what it would take to bring Amtrak to T.F. Green Airport. To help answer that question, U.S. Senator Jack Reed included language in the fiscal year 2016 Transportation Appropriations bill requiring the Federal Railroad Administration (FRA) to coordinate a study with Amtrak and the Rhode Island Department of Transportation (RIDOT) to explore options for bringing more convenient train service to T.F. Green. Today, the results of that study are in, and the report gives the state several options.
The FRA's informational report does not require any specific action, but it provides Rhode Island with costs, benefits, and options to move forward if it chooses. The report examines four major options: regular Amtrak Northeast Regional service; alterations to MBTA service; a new intercity rail service; or an extension of the Connecticut Shore Line East to Providence. It gives a high-level examination of all of these options, but it will require more detailed analysis to "true up" cost estimates in the report should the state decide to pursue any of these options. Significantly, the report shows that adding Amtrak regional service is feasible from an operational standpoint and would likely be the least costly and simplest option for increasing rail service at the airport. The addition of new Amtrak service was also anticipated in the NEC FUTURE "Record of Decision" that was published last week.
"Bringing a permanent Amtrak stop to the airport could help the state attract investment, create jobs, and enhance transportation options for Rhode Islanders and visitors to the state. But it has to be done in a smart, cost-effective manner that builds on the significant investments we have already made. This report lays out the benefits and costs not only of an Amtrak stop but of other alternatives for adding rail service at T.F. Green," said Reed, the Ranking Member of the Appropriations Subcommittee on Transportation, Housing and Urban Development (THUD). "I appreciate FRA working with RIDOT and Amtrak to conduct this initial study. I will continue working at the federal level to support the state's efforts to make smart, informed transportation investments that will grow our economy and make Rhode Island more competitive."
"As the airport works to bring in new domestic and international service, a better rail connection on the Northeast Corridor could be an added enticement for airlines and travelers," added Reed, who noted that T.F. Green Airport is nearing completion on a $250 million upgrade that includes lengthening the airport's main runway to 8,700 feet to better accommodate bigger planes and long-distance flights, including West Coast and European service, and enhance safety. The investments are beginning to yield results. Besides existing service to the Azores and Cabo Verde, the airport has added two new domestic carriers this year, and in June, it welcomed the first travelers from Europe on Norwegian Air International. Plans have already been announced for service to the Caribbean next winter.
Bringing a regular Amtrak stop to the airport would require upgrades at T.F. Green Station in order to allow Amtrak's regional trains to stop there and to accommodate freight, commuter, and high-speed trains that also operate along that route. Some of the non-Amtrak scenarios in the report do not require the same infrastructure investments but would require new investments in equipment and rolling stock, as well as higher operating costs.
In addition to examining options for an airport stop, RIDOT will be wrapping up work on the Kingston Station siding and platform project, for which Reed helped to secure a federal high-speed rail grant in 2011. RIDOT has also received funding under a 2016 TIGER grant award to build a new Pawtucket-Central Falls Commuter Rail Station that will provide a direct connection via Massachusetts Bay Transportation Authority (MBTA) trains to Providence, T.F. Green Airport, and Wickford Junction stations in Rhode Island, as well as numerous stops en route to South Station in Boston.