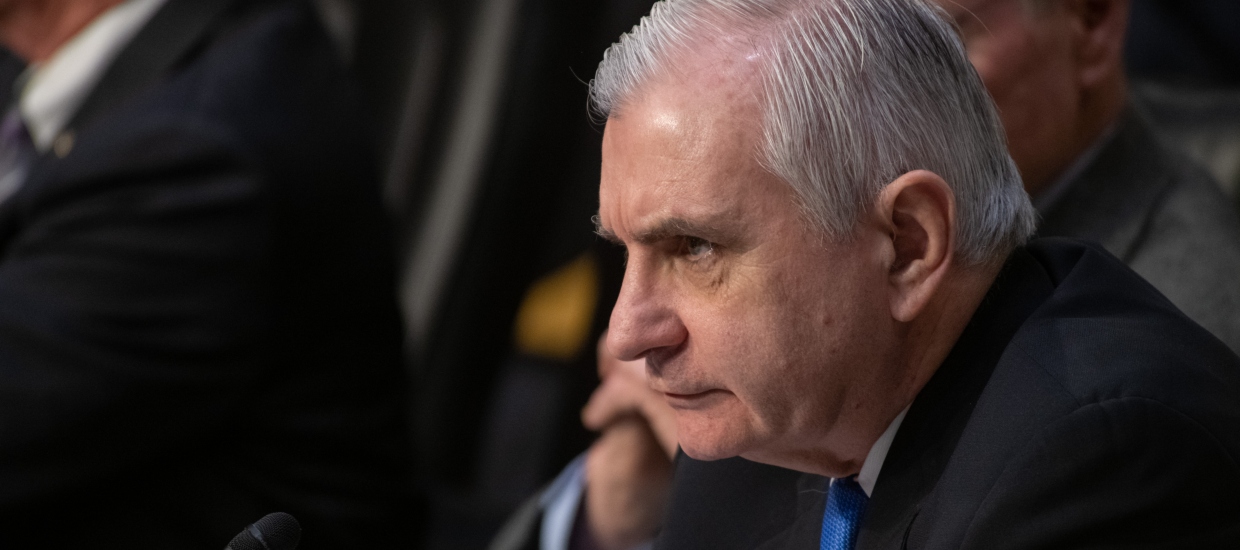 7/22/2019 —
WASHINGTON, DC – Today, U.S. Senator Jack Reed (D-RI), the Ranking Member of the Armed Services Committee, heralded a move by the U.S. Air Force to halt millions of dollars in bonus payments to landlord Balfour Beatty Communities following news report suggesting the company falsified maintenance records.
According to a joint investigation by CBS News and Reuters, Balfour Beatty, one of the U.S. military's largest private-industry landlords, is alleged to have systemically falsified maintenance records, which allowed executives to secure incentive fees while military families in need of assistance awaited repairs: "For years, Balfour Beatty kept two sets of maintenance books at Tinker, Reuters, working in partnership with CBS News, found. A falsified set of official electronic records was shown to the Air Force, listing quick response times. A handwritten set of accurate records was also kept by the company in order to track what was really happening. These records, never disclosed to the military but examined in part by Reuters, show that weeks routinely elapsed before hazards were remedied."
While the Air Force Office of Special Investigations and the Federal Bureau of Investigation (FBI) are investigating fraud allegations at three Balfour Beatty bases, located in California, Oklahoma, and Washington, the Air Force has announced it will stop bonus payments to all 21 military housing bases operated by Balfour Beatty.
Senator Reed, who has been a staunch advocate for improving military housing and holding private management companies and the military accountable for fixing it, says that withholding the payments is necessary until investigators have completed a thorough examination of the facts.
"These are deeply troubling allegations and I commend the Air Force for stepping in and taking decisive action to stand up for military families and get to the bottom of this. The health and well-being of our troops and their families must always come first. It appears that military families were getting short-changed so that some of these managers could pocket bonuses. If that is the case, they need to be held accountable and taxpayer money should be clawed back," said Senator Reed.
Earlier this year, Senator Reed, along with Armed Services Committee Chairman Jim Inhofe (R-OK), included new military housing protections in the defense bill known as the Fiscal Year 2020 National Defense Authorization Act. The legislation, which was approved by the full U.S. Senate and waiting to be conferenced with companion legislation in the U.S. House of Representatives, includes thirty new provisions that will begin to correct the unacceptable state of privatized military family housing. The provisions include: a new "Tenant Bill of Rights;" additional funds to hire more housing oversight personnel; quality control measures and mandatory health and hazard inspections; establishing resident customer care advocates; withholding payments to landlords and contractors if problems aren't fixed; and increased oversight of the private contractors that manage housing on military installations.
"It's unclear what the FBI or the Air Force Office of Special Investigations will conclude, but anyone involved must be held accountable. Most importantly, we need meaningful reforms to ensure this kind of thing doesn't happen in the future," said Reed. "Congress needs to keep working on a bipartisan basis to improve on-post military housing and the services need to take aggressive action to ensure our troops are being well cared for. These landlords need to get the message that we won't tolerate substandard treatment for our troops and their families. We expect them to honor their contractual obligations and we'll be watching like hawks to ensure they do."