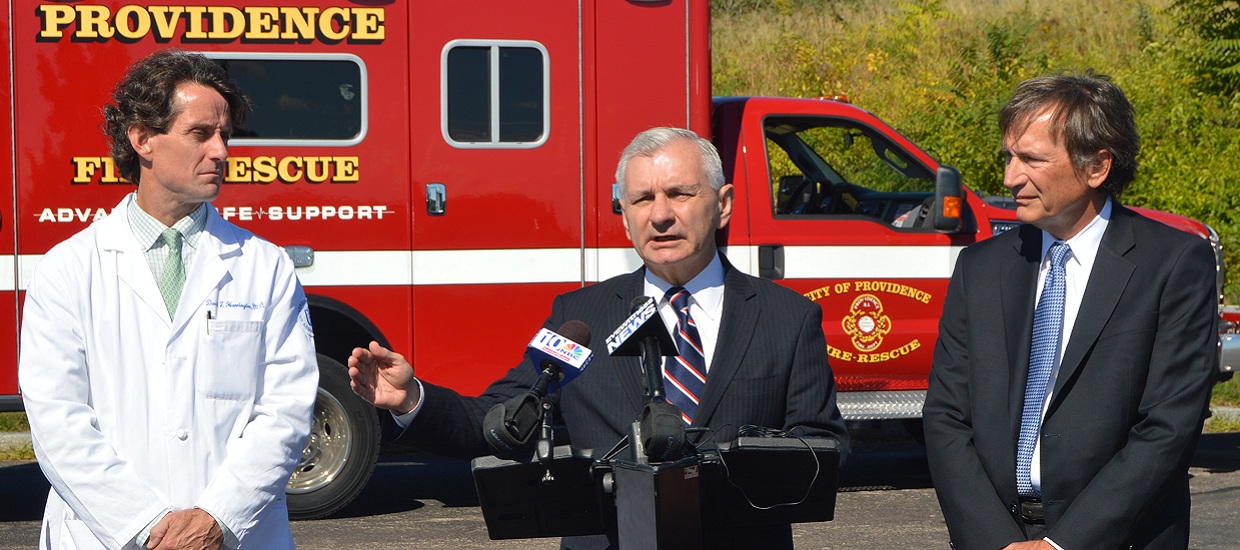 10/01/2015 —
WASHINGTON, DC – In an effort to build a stronger health care workforce and ensure patients have access to the medical care they need, U.S. Senators Jack Reed (D-RI) and Roy Blunt (R-MO) have teamed up to introduce the Building a Health Care Workforce for the Future Act. This legislation would help address the looming health care workforce shortage by making it easier for students to pursue careers in health care, with an emphasis on primary care, and encouraging providers to work in medically under-served communities and practice areas of highest need.
According to the Association of American Medical Colleges, by 2025, there will be a shortage of up to 90,000 physicians. Approximately one third of the shortage, up to 31,100, will be in primary care. Individuals and families living in underserved areas – urban and rural – will continue to be those most disadvantaged by this shortage. The Building a Health Care Workforce for the Future Act would authorize programs that would grow the overall number of health care providers, and incentivize providers to consider careers in neighborhoods and practice areas where they are most in-demand.
"We cannot afford to ignore the symptoms of an overburdened health care workforce any longer. With a projected shortage of health care providers on the horizon, this bipartisan legislation will help our health care workforce better meet the number of patients in need, particularly with regard to primary care providers and care in underserved areas. Expanding and improving access to care must be a top priority for Congress, and I am glad to be joined by Senator Blunt in calling for action before the problem gets worse. Investing in our health care workforce is good for public health as well as our economy," said Senator Reed.
Reed noted that after successful efforts to expand the health care system to provide health insurance to millions more Americans, the uninsured rate has decreased to the lowest level since 1997 over the last two years. In Rhode Island, the uninsured rate decreased by half, down to five percent. As a result, millions of Americans are going to the doctor for preventive health care for the first time, and the U.S. health care workforce must grow accordingly to ensure that there are enough health care professionals to treat the newly insured.
"As our nation's need for a strong health care workforce continues to grow, it's important we invest in students looking to pursue a career in primary and secondary care," said Senator Blunt. "This bill will help curb workforce shortages by strengthening scholarship programs, increasing mentorship opportunities, and giving medical schools resources they need to improve competencies in priority areas so that underserved communities have access to timely, quality health care. I am glad to again work with my colleague Senator Reed on this issue and appreciate his efforts."
The Building a Health Care Workforce for the Future Act seeks to address barriers faced by individuals interested in pursuing health care careers by authorizing:
State Scholarship Programs. The National Health Service Corps (NHSC) provides scholarships and loan repayments to health professions in exchange for primary care practice in federally designated underserved areas. The NHSC also supports similar state-sponsored loan repayment programs (SLRPs) with matching funding. The Building a Health Care Workforce for the Future Act expands on the success of the NHSC by providing states $1 of federal matching funds for every $1 invested by the state in a scholarship program to help address health professions workforce shortages in primary care and other professional shortage areas designated by the state and approved by the Secretary.
Mentors for Medical Students. Graduating medical students consistently state that the most important factors affecting their decision to go into a specialty are the content of the field, the lifestyle it affords, and the influence of a role model. The Building a Health Care Workforce for the Future Act would authorize grants to medical schools to increase mentorship opportunities for medical students who express interest in a primary care career upon matriculation through two programs:

Developing Effective Primary Care Mentors to identify characteristics of effective role models in primary care, coach potential role models on effective mentorship strategies, and establish a nationwide network of primary care mentors to develop and share resources.
Improving Mentorship Opportunities for Medical Students to support longitudinal experiences in primary care for medical students interested in pursuing primary care careers.

New Competencies. As the nation's demographics and health care delivery system change, the health care workforce will face new challenges. The Building a Health Care Workforce for the Future Act would authorize grants to medical schools to improve competencies in priority areas, including educational innovations in promoting the patient-centered medical home; integrating primary care and mental health and/or public health/prevention; cultural competency; team-based care; and other priorities. At the end of the grant period, grantees would be required to report on successful efforts that could be replicated to better promote the education and training of providers in the priority competencies.
Documentation Requirements for Cognitive Service. Medicare requires physicians providing evaluation and management services to complete extensive documentation requirements. These requirements were designed before the prevalence of electronic records and impose a substantial administrative burden on physicians. The Building a Health Care Workforce for the Future Act would direct the Institute of Medicine to conduct a study within three years that examines how such requirements could be modified for electronic records, analyzes whether the requirements are excessive and potentially detract from patient care, and provides recommendations for less burdensome alternatives.
The legislation is supported by health care providers across the spectrum of care, including the Alliance for Specialty Medicine, the American Association of Child and Adolescent Psychiatry, the American Association of Colleges of Osteopathic Medicine, the Association of Academic Health Centers, and the Association of American Medical Colleges.
-end-