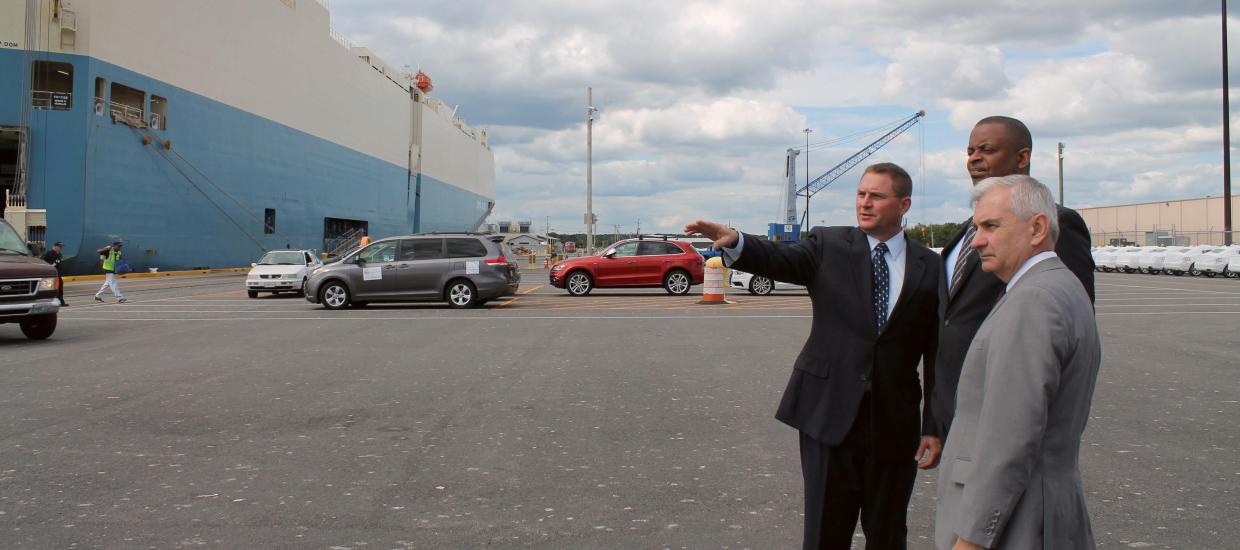 9/08/2014 —
NORTH KINGSTOWN, RI – Today, U.S. Senator Jack Reed and U.S. Transportation Secretary Anthony Foxx toured some of Rhode Island's key port infrastructure and met with transportation officials and marine shipping leaders at Quonset Business Park at the Port of Davisville to discuss the critical role ports play in Rhode Island and our nation's economy.
During the visit, Reed showed Secretary Foxx firsthand how several federal investments in the state's two major commercial ports – the Port of Davisville and the Port of Providence – are helping to create jobs and opportunities while boosting maritime commerce in the Ocean State.
"We are a maritime state, it's part of our history and heritage and key to our future. I am committed to modernizing our port infrastructure and creating good paying, sustainable jobs. And thanks to federal transportation funding, we have made major improvements at both the Port of Davisville and the Port of Providence. These federal funds have helped expand capacity and improved both dockside facilities and inland connections so our ports can increase the volume of business. We want to ensure Rhode Island's ports are well positioned to compete, both now and in the future. Investing in our ports helps create jobs, and it can also help reduce both highway congestion and energy consumption," said Senator Reed. "Rhode Island's ports have a strategic location and room for growth. We want to ensure their infrastructure is ship shape, efficient, and inter-connected so they're ready to compete for more business when the Panama Canal expansion comes on line next year."
"This investment in the Port of Davisville and the Port of Providence are a perfect example of the kind of transportation investment President Obama called for to improve our nation's port infrastructure," said U.S. Transportation Secretary Anthony Foxx. "As freight shipments continue to increase, the ports will provide new opportunities and grow businesses in Rhode Island."
The Port of Davisville, which is operated by Quonset Development Corporation, is the state's largest port and a major gateway to markets throughout Southern New England and beyond. ProvPort is one of the busiest deep water ports in the northeast.
Senator Reed has worked for many years to improve infrastructure at both ports.
"At the Port of Davisville, we've improved the highway (Route 403) with a $182 million investment largely funded through the Federal Highway Administration. I worked to secure over $55 million for the Freight Rail Improvement Project (FRIP) to provide a meaningful rail connection to the port. We helped land a $22.3 million TIGER grant for a crane and additional infrastructure that can support short sea shipping and the staging and assembly of offshore wind components, as well as creating space for additional vehicles here at Quonset," noted Reed.
These federal investments have helped vault Quonset to one of the top ten ports for auto imports in the country. More than 200,000 vehicles come through here each year, utilizing a combination of sea, rail, and road. In addition, offshore wind developers Deepwater Wind and Cape Wind have options with Quonset for it to be the staging area for two significant offshore wind development projects.
"At ProvPort, we worked for over a decade to line up funds for the Army Corps to complete the dredging of the Providence River shipping channel. We've also been grateful for USDOT's assistance in providing a $10.5 million TIGER grant to purchase two new cranes for the port," said Reed, noting that ProvPort's statistics show that since the new cranes were commissioned in 2013, the port saw volume increase 42% over the last year.