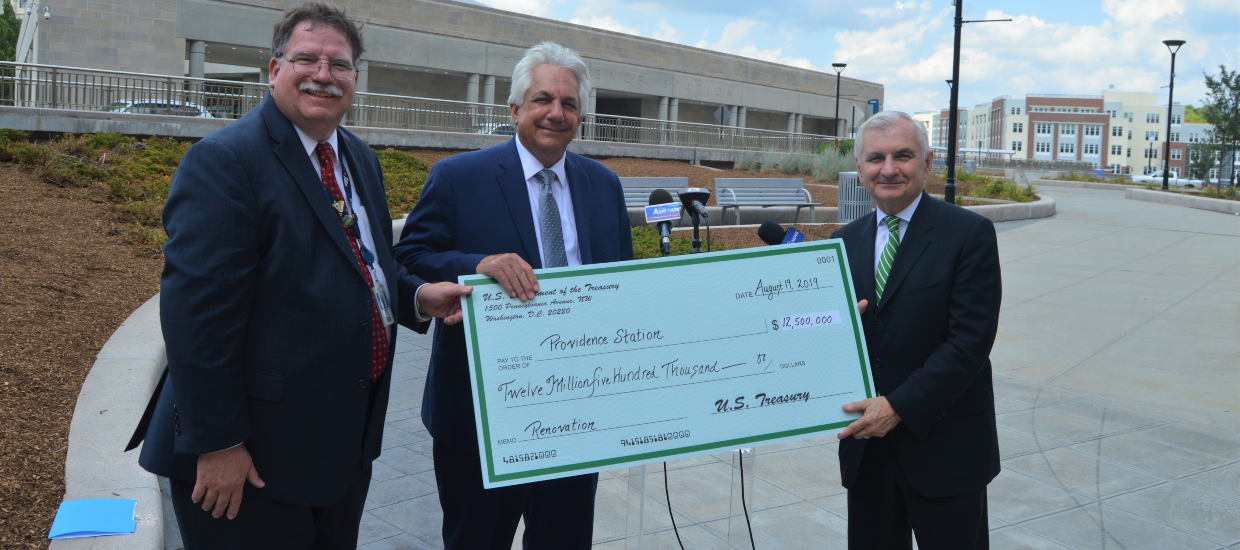 8/19/2019 —
PROVIDENCE, RI – The bid to renovate and modernize Providence Station is picking up steam.
Today, U.S. Senator Jack Reed, the Ranking Member of the Transportation, Housing, and Urban Development and Related Agencies (THUD) Appropriations Subcommittee, announced a new $25 million package of funding to begin a major renovation of the Providence Station. The new station improvements will help ensure that Providence Station provides safe, convenient, and reliable service and amenities to travelers for decades to come.
Senator Reed, who was joined at the station by officials from the Rhode Island Department of Transportation (RIDOT) and Amtrak, announced the project will be financed with a $12.5 million grant from the Federal Railroad Administration (FRA). The grant will be matched by $7.25 million from Amtrak and $5.25 million from RIDOT. The project will help overhaul the station, make interior renovations that will expand the building's interior space to the west and repurpose existing space, while also making major repairs to the roof and improving connectivity to Providence. The project will improve functionality, security, and amenities, creating capacity to support growing ridership demand.
"Providence Station is a gateway to the Ocean State and our capital city. This renovation will be a major improvement for passengers, tourism, and the community as a whole," said Senator Reed, who, in addition to securing this new round of federal funding, previously led efforts to support upgrades to Providence Station by securing $5.2 million in federal funds for enhancements and $3 million for planning, design, and environmental reviews. "Providence is a world-class city and upgrading the station can serve as a catalyst for attracting business, travelers, and economic development. This is an opportunity to meet the demands of growing ridership. It will ensure that this convenient transportation option is accessible and enjoyable for all."
"Convenient, reliable rail service is a critical component for economic growth and has a significant positive impact on quality of life," said Governor Gina Raimondo. "This renovation is an exciting opportunity that will improve the lives of Rhode Islanders and further encourage use of public transportation."
"Right now, this station handles more than one and a half million passenger trips a year. Those numbers demand a station that is modern, clean, safe and efficient. Thanks to the incredible leadership of Senator Jack Reed, now we have the chance to deliver just such a station," said RIDOT Director Peter Alviti, Jr.
"Stations are at the heart of the communities we serve and paint the first impression of a town for those coming for a stay or just passing through," said Tom Moritz, Amtrak Assistant Vice President of Infrastructure Access and Investment. "We look forward to modernizing the station and enhancing the customer experience at Providence Station with the upgrades coming from this grant."
A major transportation hub, Providence Station ranks 11th out of over 530 Amtrak stations nationwide for ridership. According to RIDOT, the preservation and modernization of Providence Station will benefit roughly two million annual intercity and commuter rail riders.
The project will add interior space to the station by enclosing the triangular outdoor patio area near the clock tower. Plans to revamp the station also include: making better use of existing space within the station; enhancing security by giving Amtrak police a more accessible location within the station; expanding and upgrading bathrooms; and improving pedestrian access to and from Providence Place Mall, where many commuters park.
As the Ranking Member of the THUD Appropriations Subcommittee, Reed helped direct $2.87 billion for the Federal Railroad Administration (FRA) and $1.94 billion for Amtrak, of which $650 million is for the Northeast Corridor in 2019. The FRA funding comes through the competitive Federal-State Partnership for State of Good Repair Program. Senator Reed has increased funding for this program over the last three years: $25 million in FY 2017; $250 million in FY 2018; and $400 million in FY 2019.
In 2015, RIDOT upgraded the station's south entrance (downtown side) to enhance circulation for vehicles, buses, and taxis and to create an inviting, civic space at the station. Improved amenities for bicyclists, updated signage, and landscaping were completed early in 2016. Needed pedestrian enhancements also will be made along Gaspee Street and repairs to damaged concrete and limestone areas on the building's facade were completed.
Floor plans and other images of the station can be viewed here: https://www.reed.senate.gov/news/photos/reed-delivers-new-federal-funds-for-25-million-upgrade-to-modernize-providence-rail-station