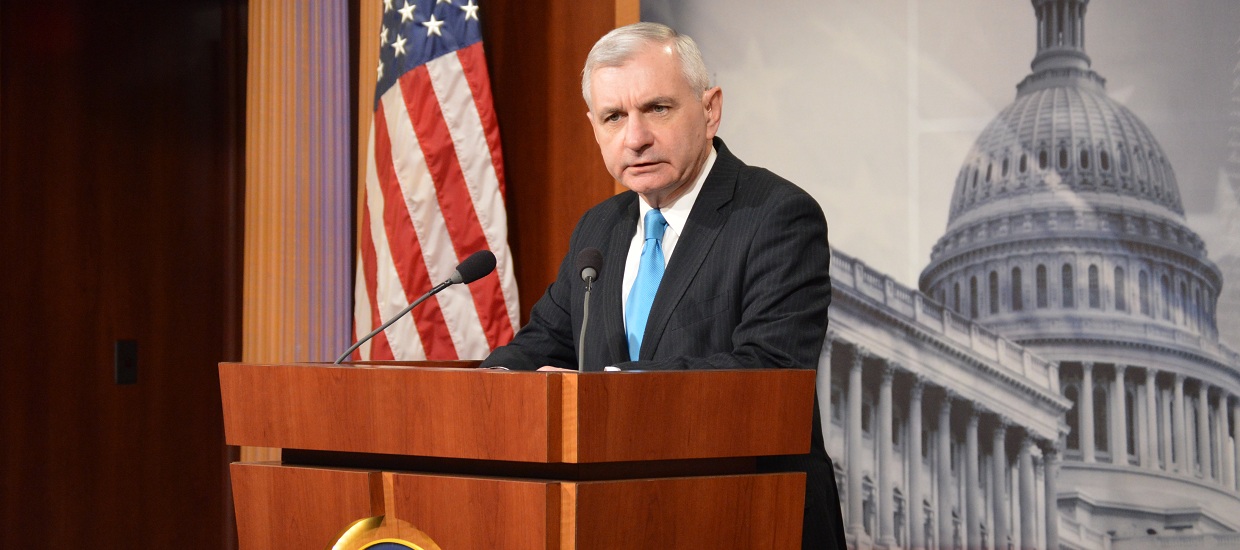 4/08/2020 —
PROVIDENCE, RI – U.S. Senator Jack Reed (D-RI) is backing a new interim emergency COVID-19 rescue package that includes $500 billion in federal funding to help hospitals, small businesses and workers, and states to urgently address the novel coronavirus (COVID-19) pandemic from both a health and economic standpoint.
Senator Reed says that while Congress made a down payment with the $2.2 trillion Coronavirus Aid, Relief, and Economic Security (CARES) Act (Public Law No. 116-136), it is already apparent that additional federal aid is needed to help people, hospitals, states, and Main Street businesses.
"America is engaged in a costly and protracted battle against COVID-19 that we can't afford to lose and we must recalibrate our strategy and surge additional resources accordingly. The CARES Act aimed high, but families, hospitals, communities, and Main Street businesses still need more help. This interim bill will be another step. To do the most good, it must focus on the most effective strategies and provide a swift boost with a strong bang for the buck. It needs to get money directly to people, hospitals and health centers, and states and communities. They are on the frontlines and taking the lead in combating this pandemic. And look, it is not just resources, we also need better coordination from the Trump Administration across-the-board, particularly in the acquisition and distribution of needed medical supplies," said Senator Reed, who took a lead role in creating a $150 billion Coronavirus Relief Fund to help states meet their financial obligations as they marshal resources to care for their citizens and effectively combat this pandemic. As a result of Reed's efforts, Rhode Island will receive $1.25 billion from this state stabilization funding. And Senator Reed is encouraging Treasury to get these funds out to states and communities.
Reed is backing a proposed interim emergency coronavirus package that includes four key elements:
• $250 billion in additional assistance to small businesses, with $125 billion channeled through community-based financial institutions that serve that serve minority-owned, women-owned, and veteran-owned small businesses in communities across the country, and improvements to ensure all eligible small businesses can access this critical funding and are not turned away by banks;
• $150 billion in additional assistance for state and local governments to better manage this crisis and mitigate lost revenue. This would double the Coronavirus Relief Fund investment for states in the CARES Act that Senator Reed helped secure, but it still falls short of the $750 billion in state stabilization funds he and Senator Chuck Schumer (D-NY) originally called for.
"I championed these funds because no state, including Rhode Island, could ever have budgeted for this kind of pandemic. States are being forced to shoulder considerable and unexpected costs and budget holes as they combat coronavirus, and these funds should provide some additional firepower," said Senator Reed, who included a provision in the CARES Act law that the funds must be sent to states within 30 days. "I strongly urge Secretary Mnuchin to get these funds to the states with maximum speed and flexibility."
• $100 billion for hospitals, community health centers, and health systems, providing desperately needed resources to the frontlines of this crisis, including production and distribution of national rapid testing and Personal Protective Equipment (PPE). Senator Reed says this funding is even more important now that the Trump Administration is threatening to divert billions of dollars away from the $100 billion that was included in the earlier CARES Act.
• Strong additional support for families with a 15 percent increase to the maximum Supplemental Nutrition Assistance Program (SNAP) benefit to help put food on the table. Economists across the political spectrum agree that SNAP is one of the fastest, most effective forms of economic stimulus. And ensuring people have access to food and nutritional assistance is critical in the midst of a pandemic.
"States, hospitals, families, and small businesses are all pleading for additional federal help. Congress and the Trump Administration need to listen and act. The first three bills were all well-intentioned, but the one thing they all have in common is they weren't enough. We can't just provide a few more dollars to a few people, we've got to take a smart, comprehensive approach and target this aid where it is most needed and can do the most good. I urge my Republican colleagues to join us in making these needed investments in helping the American people," said Senator Reed.
This interim emergency coronavirus rescue package would mark the fourth bill in a series of emergency coronavirus measures that Congress has taken up. The first two included an $8 billion appropriation to help address the spread of the virus and nearly $200 billion for free testing, expanded paid sick leave, and Medicaid funding. The third bill was the CARES Act.
Senator Reed was part of a twenty-member bipartisan working group that helped craft the historic CARES Act agreement. He spearheaded efforts to include fiscal help for states and worked to successfully include other important measures like expanding unemployment insurance and renewing federal support for work sharing, aiding small businesses, boosting transportation and economic development programs, and imposing tougher restrictions on corporate bailouts to ensure taxpayers benefit from any upside.
Senator Reed concluded by saying: "Congress must be prepared to sustain federal support to save lives now and secure our recovery over the long-term, including by supporting other initiatives like enhanced unemployment, infrastructure, and housing assistance."