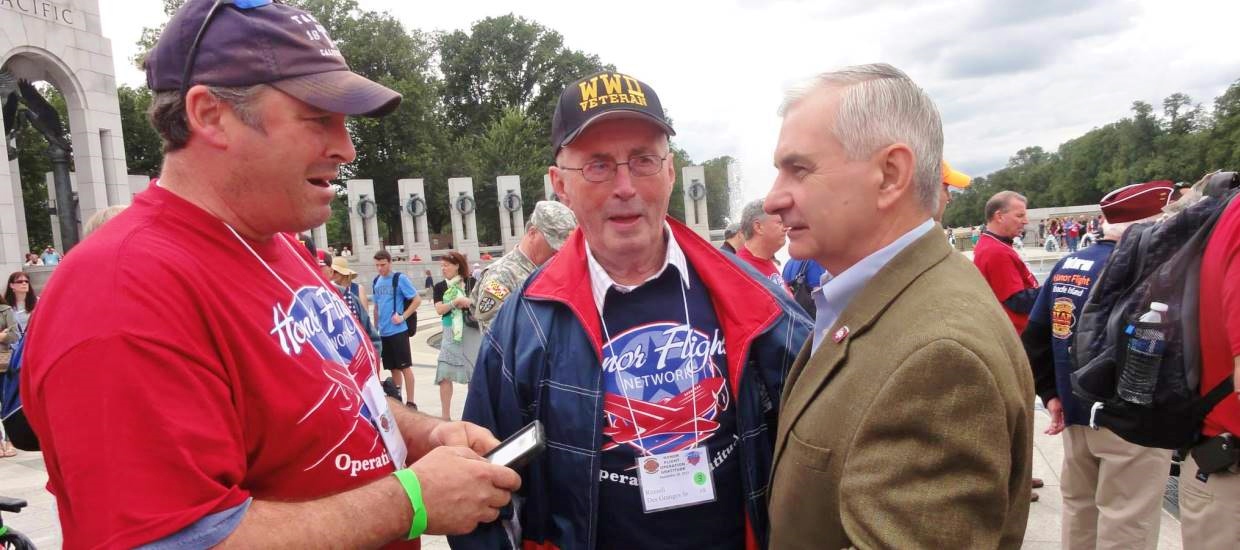 3/31/2020 —
PROVIDENCE, RI – In an effort to ensure the U.S. Department of Veterans Affairs (VA) is prepared to deal with a surge in novel coronavirus (COVID-19) cases, U.S. Senator Jack Reed (D-RI) says the newly passed Coronavirus Aid, Relief, and Economic Security Act (CARES Act) includes nearly $20 billion to enhance the VA's response to COVID-19.
There are over eighteen million veterans nationwide, and about nine million of them, including many elderly patients, are served by the VA healthcare system. Senator Reed says it is essential to strengthen the capacity of the VA to care for our veterans and their families during this crisis and ensure they have the diagnostics, protections, and practices in place to treat veterans with COVID-19, while continuing to serve veterans with other serious health needs.
Reed, a former Army Ranger who was on the bipartisan taskforce that negotiated provisions of the CARES Act, helped direct $19.6 billion to boost the VA's coronavirus response capabilities, including the purchase of more testing kits, medical equipment, and personal protective equipment for doctors, nurses, and staff. This funding level is $19.6 billion more for veterans than Senate Republican's original proposal, which did not include any federal funding to support the VA.
"We must ensure every veteran has access to quality health care and gets the care they need, when they need it. The CARES Act is like a $20 billion booster shot to increase and improve health services throughout the VA health care system. It injects needed funding to ensure they have the staffing, supplies, and protocols in place to handle the influx of patients," said Senator Reed. "We want to protect veterans and help prevent coronavirus exposure and transmission by enabling them to access VA care and services from home. The VA is expanding options for remote care and taking additional steps to deploy mobile care to serve veterans and their families."
The CARES Act ramps up the VA's telehealth and mobile health capabilities, which allow doctors and patients to connect remotely using mobile phones, computers, and tablets, and will improve safe access to care for veterans wile meeting the expected surge in infected patients. And it helps ensure that the VA has the authorization to provide protective gear to all home health care workers who serve veterans, increases assistance to help homeless veterans, and lifts pay caps for providers working overtime during the pandemic. It also allocates $2 billion to support an expected increase in demand for veterans seeking medical treatment through community providers.
Reed noted the legislation also dedicates $150 million to help keep residents of State Veterans Homes safe from coronavirus and enable facilities to respond to the pandemic. It also provides the VA with authority to provide personal protective equipment (PPE) and medical supplies to state-run nursing homes. An employee at the Rhode Island Veterans Home in Bristol – which is not run by the VA -- recently tested positive for coronavirus. According to the Executive Office of Health and Human Services, the employee was not a direct care provider, and the Rhode Island Veterans Home is taking precautionary measures and closely monitoring the situation.
"We have a duty to care for those who served. And I will continue doing everything I can to ensure all veterans have a safe, supportive environment and that the VA is taking every measure possible to protect residents and staff. This virus is pervasive and relentless. The VA must provide the best possible care for our veterans and protect the staff that serves them," said Senator Reed.
The Providence VA Medical Center (VAMC) on Chalkstone Avenue offers accessible health care for veterans. In accordance with state and federal guidance, Providence VAMC has rescheduled all non-urgent, elective procedures and appointments until sometime after May 1.
Veterans experiencing flu-like symptoms such as fever, dry cough, and shortness of breath, are urged to contact the Providence VAMC before coming in for care (either on the phone: at 401-457-3336, or through the MyHealtheVet app). Veterans are also encouraged to use virtual care options, such as VA Video Connect, for other kinds of ONLINE appointments.
The VA runs the nation's largest integrated health care system, operating 170 medical centers across the country. In addition to caring for veterans, part of the VA's mission is to "improve the nation's preparedness for response to war, terrorism, national emergencies and natural disasters." Senator Reed says the COVID-19 pandemic qualifies as a national emergency and the VA must mobilize and be prepared to serve our veterans, their families, and our communities during this national emergency. On March 15, Senator Reed sent a letter to Secretary Wilkie asking about the status of VA's preparations to combat COVID-19.
Veterans Affairs officials in New York have already opened up 50 VA beds (35 acute care and 15 intensive care units) to non-veteran, non-COVID-19 patients in New York City as part of the VA's federal responsibility to backstop community health needs.
"Thankfully, Rhode Island hospitals are not overwhelmed at this point. But if the need arises for government-run medical care centers to treat extra patients here, I want to ensure the VA is capable of fulfilling its "fourth mission." That means ensuring VA facilities have the resources and staffing they need to care for veterans and civilian patients, and the CARES Act will go a long way toward seeing that they do," said Reed.
SUMMARY - CARES Act Resources for Veterans:
$14.4 billion for essential medical and protective equipment including the purchase of testing kits, personal protective equipment (PPE), and medical supplies to support growing demand for health care services at VA facilities and through telehealth services. This includes:
- Setting aside over $600 million for VA to add space to clinics and hospitals.
- Requiring VA to provide PPE to home health care workers serving veterans at home and in the community.
- Temporarily waiving pay caps for providers working overtime during the COVID-19 pandemic, to ensure they will be fully compensated for hours served.
The bill provides $590 million for VA to devote to supporting veterans at an increased risk of contracting coronavirus. It includes funding for the Health Care for Homeless Veterans program, the Supportive Services for Veterans Families program, and the Grant and Per Diem program. This funding will help veterans get treatment, and provide support for those who are homeless or at risk of eviction. It also includes $150 million to assist State Veterans Homes to prevent, prepare for, and respond to coronavirus. It will provide payment to State Veterans Homes when residents are transferred to acute care due to COVID-19, regardless of their occupancy rate, and allows VA to provide available PPE to State Veterans Homes.
$2.1 billion to support increased demand for care in the community, especially at emergency rooms and urgent care facilities. And allows veterans with limb loss who need help with their prosthetics to see a community provider instead of VA during the pandemic.
$2.15 billion to enhance information technology infrastructure for veterans care, including equipping and staffing for temporary hospitals, clinics and mobile treatment centers, and for remodeling existing facilities. This includes funds to bolster telehealth capabilities through increased telework and call center capabilities to deliver health care services directly related to coronavirus and mitigate the risk of virus transmission.
$13 million to help ensure VA can provide earned benefits by enhancing telework capabilities for the Veterans Benefits Administration. Gives VA flexibility to provide pensions or other income-related benefits to veterans and family members, even if other emergency funding benefits paid by the government, such as direct payments of $1,200, place them over VA income thresholds.
The bill also includes millions of dollars for medical emergency management, medical facilities, and the Office of Inspector General to support oversight of VA's efforts to prevent, prepare for, and respond to the coronavirus.
Reed notes this CARES Act funding builds on an initial infusion of $60 million to boost the VA's coronavirus diagnostic testing and response that was included in the Families First Coronavirus Response Act, which was the second of three bipartisan coronavirus relief packages approved this month.