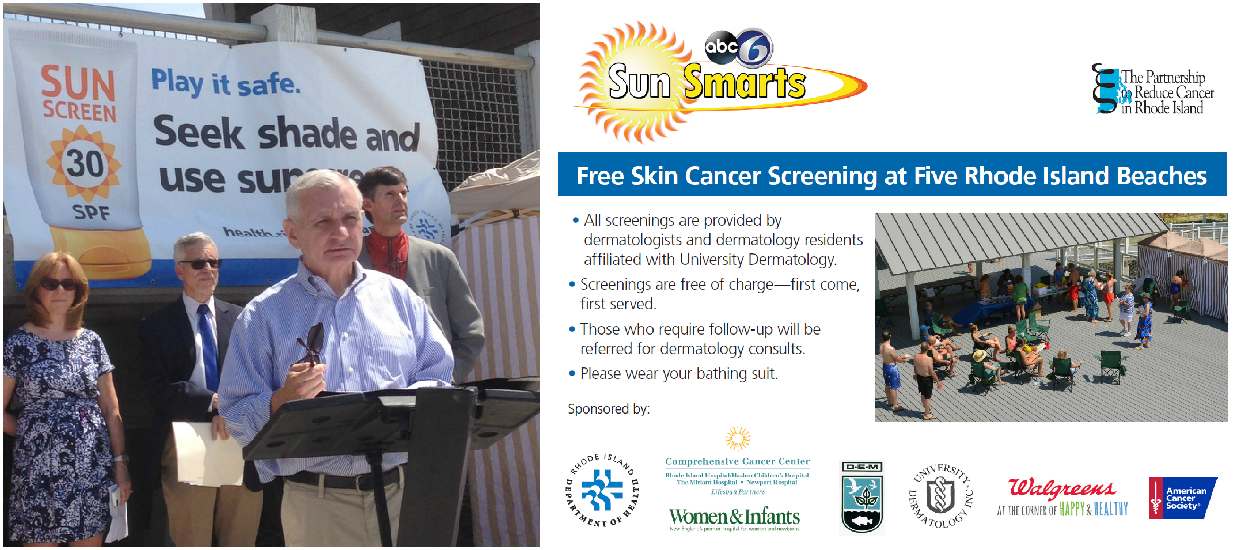 8/07/2015 —
NARRAGANSETT, RI – Seeking to spread the word on skin cancer prevention and detection, U.S. Senator Jack Reed is teaming up with the Rhode Island Department of Health, The Partnership to Reduce Cancer in Rhode Island, and other medical professionals to promote the 2015 SunSmarts campaign, which offers free skin cancer screenings at local beaches around the state.
Today, Reed joined public health officials, doctors, and dermatologists who are volunteering their time and expertise to offer free skin cancer screenings for beachgoers and to help educate the public about effective sun protection.
"This is an important effort, and I thank the many partners who have come together to promote sun safety throughout Rhode Island. This initiative helps raise awareness about the steps people can take to prevent skin cancer. These volunteers are setting up shop right by the beach and making it as quick and easy as possible for people to get screened," said Reed, the author of the Sunscreen Innovation Act, a bipartisan bill to improve sunscreen protection, promote sunscreen use, and ensure U.S. consumers have access to the safest, most effective sunscreens available.
Conducted in a private setting by board certified dermatologists and dermatology residents affiliated with University Dermatology, the free skin cancer screenings include a visual inspection of a patient's skin by a medical professional with no blood work required. A typical screening takes about 15 minutes and officials hope to screen about 500 beach goers.
The first come, first served screenings -- which have been taking place at selected beaches throughout the summer -- will be offered at Roger Wheeler Beach (Sand Hill Cove Beach) in Narragansett today, and later this month at Misquamicut Beach in Westerly (August 21).
The SunSmarts public health campaign is made possible by The Partnership to Reduce Cancer in Rhode Island, a broad based coalition of partners who have come together to provide input on the planning and implementation of programs and services around comprehensive cancer control. Other community partners in this effort include ABC 6, the Rhode Island Department of Health, University Dermatology Inc., Lifespan Community Health, Women & Infants Hospital of Rhode Island, the American Cancer Society, the Rhode Island Department of Environmental Management (DEM), the City of Newport, and Walgreens.
Skin cancer is the most common form of cancer in the United States, with more than 3.5 million skin cancers in over 2 million people diagnosed annually. Each year there are more new cases of skin cancer than the combined incidence of cancers of the breast, prostate, lung and colon, and it is estimated over 76,000 new cases of invasive melanoma will be diagnosed in the U.S. this year.
Dermatologists note there are several precautions to help reduce sun damage, including:
Seeking shade instead of direct sunlight, especially during the peak hours of UV radiation (10 a.m. to 3 p.m.).
Properly applying sunscreen before sun exposure and reapplying throughout the day.
Wearing hats, sunglasses, and covering up with clothing.
Rhode Islanders interested in receiving a free screening and consultation are asked to wear their bathing suits and stop by any of the screening events scheduled this summer. Those who require a follow-up will be referred for dermatology consultations.
-end-