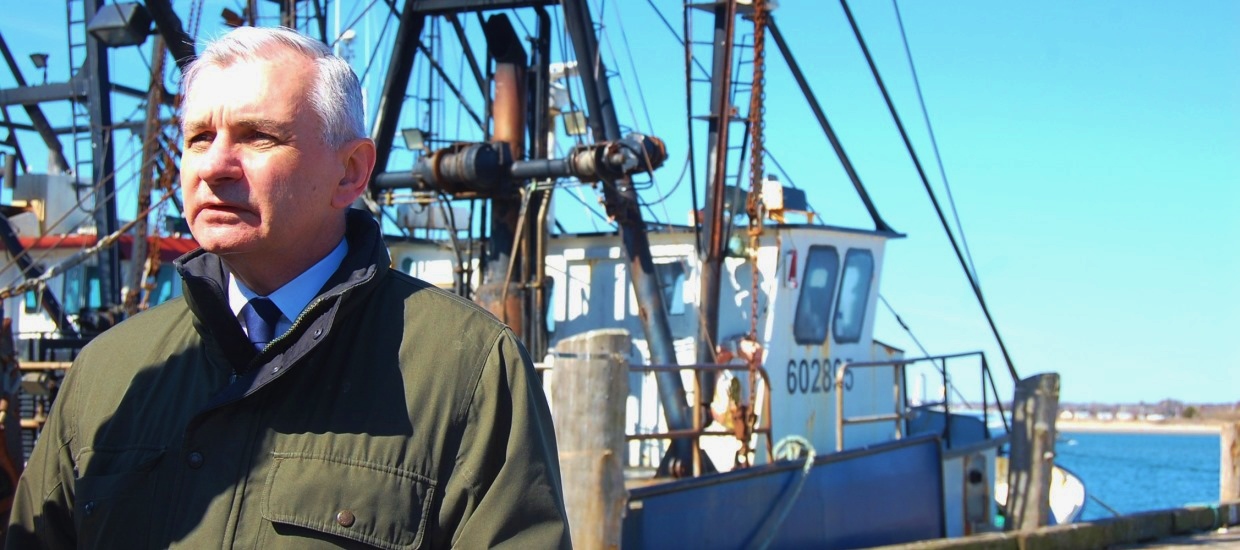 5/11/2020 —
PROVIDENCE, RI – Due to the novel coronavirus (COVID-19) pandemic, Rhode Island's farmers, fishermen, and food industry are all facing widespread market disruption and hungry families in need require additional nutritional assistance.
In an effort to assist Rhode Island's families, farmers, fishermen and food producers, U.S. Senator Jack Reed recently helped secure federal funding -- including $3,294,234 for Rhode Island fishermen and $222,750 for Farm Fresh Rhode Island. But Reed says Congress must take additional steps to protect the food supply chain, help families put food on the table, and support family farmers, fishermen, and food workers.
Reed helped include several food-related initiatives in the Coronavirus Aid, Relief, and Economic Security (CARES) Act (Public Law No. 116-136) to help Rhode Island's agriculture, fishing, and food industries. Overall, the CARES Act provides roughly $49 billion for food, agriculture, and nutrition assistance related provisions. This total includes about $24.6 billion for domestic food programs and to help support farmers; nearly $16 billion to bolster nutrition assistance programs; and about $9 billion to enhance child and senior nutrition and fund meal programs for kids outside of school.
"Pandemic or not, people have to eat and farmers and fishermen have to be able to earn a living. The next disaster relief package must addresses the hardships local and regional food producers are facing and keep the food supply chain steady, healthy, and intact," said Senator Reed. "Farmers and fishermen are resilient, but everyone has their breaking point, and without additional federal assistance, a lot of family farms and fishing boats could be forced to go under. As food banks feed more families, the federal government can step up and ensure they are purchasing fresh, local produce, seafood, and dairy products at a fair price. We are a bountiful country, and no American should be forced to go hungry because of this pandemic."
According to the U.S. Department of Agriculture (USDA), nearly 38 million Americans participated in the Supplemental Nutrition Assistance Program (SNAP) in 2019, receiving an average monthly benefit of approximately $1.40 per person per meal. In Rhode Island, over 140,000 residents are eligible for SNAP and Senator Reed helps direct about $244 million annually in federal funding to the state to help feed Rhode Islanders. According to the Rhode Island Community Food Bank's annual Status Report on Hunger, the average household SNAP benefit in Rhode Island is $223 per month.
"People are feeling financial pressure and SNAP is a nutritional lifeline. As more Americans lose their jobs, we're seeing longer lines at food pantries. I am going to fight for every food dollar I can to help Rhode Islanders in need and I urge the Trump Administration to drop its ideological opposition to SNAP and help ensure we have the resources and infrastructure in place to prevent widespread hunger," said Senator Reed, who has championed efforts to strengthen SNAP.
Reed has sought to boost overall SNAP benefits by 15 percent to bolster families' food security and stimulate the economy; raise the minimum SNAP allowance from $16 to $30 to support the many seniors receiving this level of benefits; and prevent the Trump Administration from reducing nutrition assistance and pushing Rhode Islanders in need out of the SNAP program.
In one bright spot for the state, Rhode Island recently joined a dozen other states nationwide - including New York and California – in gaining USDA approval to allow SNAP recipients to use online ordering for delivery.
Among the food programs in the CARES Act, the Coronavirus Food Assistance Program (CFAP) provides $3 billion to purchase and distribute agricultural products to those in need. Under the program, the U.S. Department of Agriculture (USDA) partners with regional and local distributors, whose workforce has been significantly impacted by the closure of many restaurants, hotels, and other food service entities, to purchase and distribute fresh produce, dairy, and meat.
Last week, Farm Fresh Rhode Island was approved by USDA to lead the state's 'Farmers to Families Food Box' program. Farm Fresh was awarded a $222,750 federal grant to help provide thousands of food boxes per week filled with fresh and healthy local fruits, vegetables, and dairy products for the Rhode Island Community Food Bank to distribute to Rhode Islanders in need.
Reed says USDA needs to provide relief for local farmers who are struggling, and has urged USDA officials to ensure more CARES Act assistance goes to local farmers who sell directly to consumers, schools, institutions, food hubs, regional distribution centers, retail markets, farmers markets, and restaurants.
Senator Reed also noted that while Rhode Island's fishermen have been hit hard by restaurant and hotel closures and export restrictions, many fishing boats have been buoyed by increased direct sales and more people learning to cook seafood at home. Still overall sales are way down and fishing communities and small seafood processors are struggling to survive the prolonged economic downturn. The CARES Act appropriated $300 million through the National Oceanic and Atmospheric Administration (NOAA) for fishery disaster assistance. Rhode Island's fishermen – commercial and charter boats -- netted a $3.3 million share of the financial aid under NOAA's formula.
"This level of funding alone won't meet the diverse needs of our fishermen, processors, for-hire charter industry, shellfish farmers, and other coastal businesses. There needs to be broad, bipartisan recognition that additional assistance is needed to help keep fishing business afloat through this pandemic," said Reed, who led 25 U.S. Senators in a bipartisan call for an additional $3 billion in assistance for the fishermen in the form of relief payments and seafood purchasing from USDA.
Thanks in part to Reed's efforts, the USDA announced this week that it would purchase $70 million in seafood, including $20 million for Atlantic seafood such as Atlantic Haddock, Pollock, and Redfish, as part of its COVID-19 response.
"The Trump Administration needs to recognize that additional assistance is needed to help families, farmers, and fishermen survive. The level of assistance provided so far is just a drop in the bucket compared to what is needed. This isn't time to go into wait and see mode, we need to be in emergency rescue mode and speed additional assistance to where it is most needed so it can make a difference and prevent a deeper, wider recession," concluded Reed.