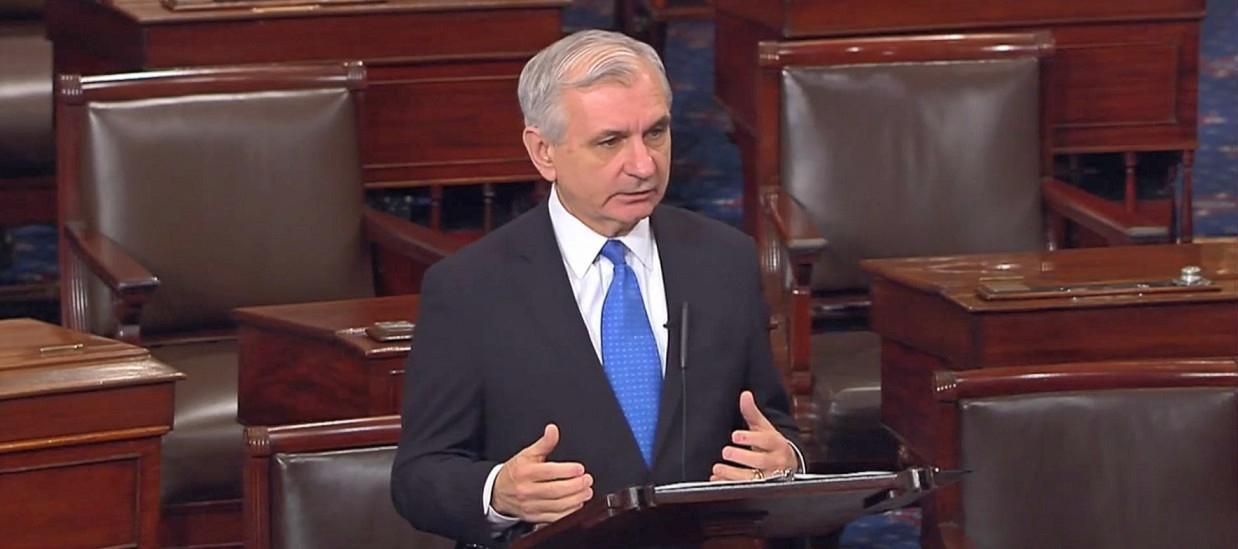 7/10/2018 —
Mr. President, today I have submitted a motion to instruct conferees on the National Defense Authorization Act regarding the critical importance of the North Atlantic Treaty Organization for the security of the United States, for our protection. I join my colleagues this afternoon in support of the motion, which sends an important message to our allies, our partners, and our adversaries that the United States is unwavering in its support of Europe — a Europe free from the threat of external aggression—and in support of the rules-based international order that has promoted international security for decades. The motion to instruct provides important guidance at this critical juncture before the NATO summit in Brussels and the U.S.-Russia summit in Helsinki. The motion instructs the Senate conferees on the National Defense Authorization Act for Fiscal Year 2019 to ensure that the final conference report on the NDAA reaffirms the ironclad U.S. commitment under article 5 to the collective defense of the alliance. It reaffirms the U.S. commitment to NATO as a community of shared values, including liberty, human rights, democracy, and the rule of law. The motion also calls for the United States to pursue an integrated approach to strengthen European defense as part of a long-term strategy that uses all elements of U.S. national power to deter and, if necessary, to defeat Russian aggression. It also calls on the Trump administration to urgently complete a comprehensive, whole-of-government strategy to counter Russian malign influence activities, as required by last year's National Defense Authorization Act, and to submit that strategy to Congress without delay. We are still awaiting—for over a year now—this strategy. Finally, the motion reiterates U.S. support for the rules-based international order and for expanding and enhancing our alliances and partnerships, which are some of our greatest security advantages.
No one should ever doubt the U.S. resolve in meeting its commitments to the mutual defense of the NATO alliance. Unfortunately, this motion has become necessary because some of our closest allies have come to question the U.S. commitment to collective selfdefense. President Trump has at times called the alliance ''obsolete'' and has denigrated NATO as being ''as bad as NAFTA,'' which he strongly opposes. Our allies are starting to wonder whether they can rely on the United States to come to their defense in a crisis. Recently, German Foreign Minister Maas said the ''world order that we once knew . . . no longer exists.'' He added that ''old pillars of reliability are crumbling'' and that ''alliances dating back decades are being challenged in the time it takes to write a tweet.'' To make matters worse, the administration's eagerly scheduled summit meeting with Russian President Vladimir Putin, on the heels of the NATO summit in Brussels, only adds to fears that President Trump does not share the security concerns of our European allies and partners. Instead of concentrating on rebuilding alliance cohesion and unity after his divisive diplomacy at the G7 meeting in Canada, President Trump appears intent on orchestrating another photo op with an authoritarian ruler who oppresses his people and threatens the security of the United States, its allies, and partners—this time in the person of President Putin. Meeting with Putin now is, in my view, ill-advised, and President Trump appears to be ill-informed about the threat Russia poses to the security of the United States and that of our allies and partners.
The National Defense Strategy, which this administration authored and promoted, refocused our attention from international terrorist groups to our two major challenges, Russia and China. Yet the President, in his actions and words, appears to be undercutting his own National Defense Strategy. In addition, I am deeply concerned that President Trump is meeting oneon-one with a former KGB spymaster like Putin. President Trump's ''attitude'' will not be enough to challenge Putin over Russia's aggression against the United States and our allies. Let's be clear. President Putin is not ''fine.'' As recently reaffirmed by the Senate Select Committee on Intelligence, on which I sit, President Putin directed an attack on our 2016 elections with the intent of undermining public confidence in our democratic process. To this day, Russia continues, according to administration intelligence officials, to target elections in democratic countries, including the upcoming midterm elections in the United States. Russia's use of hybrid operations—including disinformation, propaganda, corruption and financial influence, hidden campaign donations, and even chemical attacks on civilians in foreign countries—fundamentally threatens our security and the security of our allies. And Russia's ongoing aggression against the sovereignty and territorial integrity of neighboring countries, including Ukraine, is unacceptable and violates international norms. In light of this Russian threat, President Trump should take the opportunity at this important NATO summit to lead the alliance toward greater solidarity and cohesion. Unfortunately, President Trump's statements ahead of the summit point in the opposite direction.
I understand and share the concern of many across the political spectrum that our NATO allies are not spending enough on their own defense, and many are not on track to meet the pledge to be spending 2 percent of GDP on national defense by 2024. This issue has been raised by previous administrations, including the Bush and Obama administrations. But, ultimately, the United States participates in NATO because we believe the transatlantic partnership is in the U.S. national security interest and not because other countries are paying us for protection. We must look at the whole picture of allied contributions to NATO operations and to the strategic competition with Russia and China that I mentioned was the singular point of the National Defense Strategy approved by President Trump after being prepared by Secretary of Defense Mattis. The whole picture includes the following: Our allies stood with us following the September 11, 2001, terrorist attack, invoking for the first and only time, as my colleagues have said, the obligation under article 5 of the NATO treaty for collective self-defense. As of the end of this year, 7 of the 28 non-U.S. NATO members will meet the 2 percent of GDP pledge on defense spending. In addition, 18 members have put forth a credible plan to get to 2 percent of GDP by 2024. Since 2014, all NATO members have halted the decline in their national defense spending, and total defense expenditures have increased by more than $87 billion. U.S. foreign military sales to NATO members are up significantly in the past few years, from less than $5 billion in 2015 to an estimate of nearly $40 billion in 2018. Our NATO partners provide significant host nation support to the tens of thousands of U.S. troops stationed in Europe, including Germany's $51 billion in military infrastructure and $1 billion annually in host nation support to the 33,000 U.S. troops stationed in Germany. NATO members have deployed thousands of troops on NATO operations in Afghanistan, Kosovo, the NATO training mission in Iraq, and elsewhere, with many making the ultimate sacrifice. NATO soldiers have died serving side by side with U.S. soldiers, sailors, marines, and airmen in defense of the fundamental values we share, and we cannot ignore that. The motion to instruct recognizes that in strategic competition with near-peers Russia and China—again, the singular feature of the new National Defense Strategy of this administration—one of the United States' greatest competitive advantages is our alliances and partnerships and the benefits they bring to the fight. I urge my Senate colleagues to support the motion to instruct.
This is not a partisan issue. It is not a Republican issue or a Democratic issue. It is a national security issue. In fact, the motion supports a number of provisions in the Senate version of the fiscal year 2019 NDAA proposed by my Republican colleagues on the Armed Services Committee that reaffirm the U.S. national security interest in the NATO alliance. At this critical juncture before the summits in Brussels and Helsinki, Congress, as a coequal branch of government, has an opportunity to lead, just as Congress demonstrated leadership in overwhelmingly passing the Russia sanctions bill as part of the Countering America's Adversaries Through Sanctions Act, or CAATSA, by a vote of 98 to 2. That bill sent a clear message to Russia that there are costs to its malign activities and that Russia's behavior must change. Similarly, strong Senate support for the motion to instruct will send an important message to our allies, our partners, and our adversaries. It will demonstrate solidarity with our NATO allies and partners and support for the vision of a Europe whole, free, and secure. It will send a message of support for the rules-based international order and the need for Russia to stop its disruptive behavior. It sends a message to President Putin that his behavior is not fine, that there is a continuing cost to be paid for Russia's malign activities, and that he will not succeed in dividing the NATO alliance. In conclusion, I urge my colleagues to send a strong message of U.S. support for NATO by voting later today for the motion to instruct. I yield the floor.