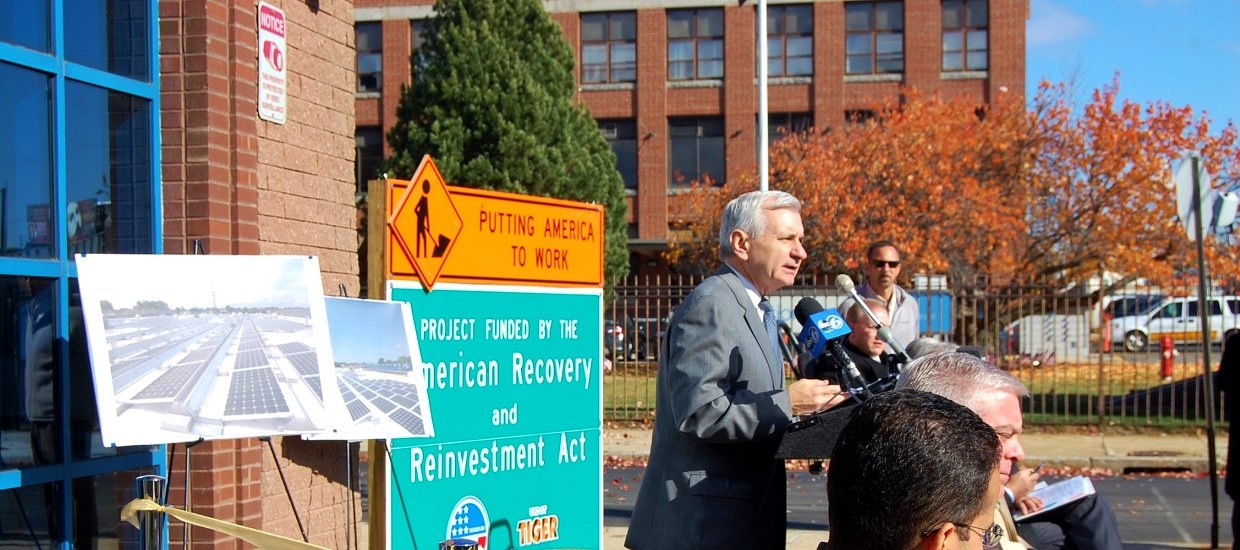 Investing in Rhode Island's Future
Each year, states rely heavily on Congress for federal funding to finance everything from highway investment and housing assistance to health care and education grants. In Rhode Island, over 33 percent of the state budget comes from federal dollars. Senator Reed works every day to preserve this crucial funding.
As a member of the Appropriations Committee and Ranking Member of its Subcommittee on Transportation, Housing, and Urban Development, Reed has secured critical funds to generate jobs and economic opportunities throughout Rhode Island.
Today, Senator Reed continues to work with his colleagues in the Senate and the U.S. House of Representatives to secure vital support for cities and towns, hospitals, colleges and universities, military facilities, and non-profits across the state.
These federal resources enable Rhode Island to create and sustain jobs, expand and improve our infrastructure, protect the environment, and help strengthen our national defense.
Key Priorities & Accomplishments
Senator Reed has worked to secure federal funding for several key transportation investments with more than $70 million in U.S. Department of Transportation TIGER grants. These include $22 million for the port at Quonset Point, $13.1 million for the Pawtucket/Central Falls Commuter Rail Station, $10.5 million for the Port of Providence, $10 million for the Providence Viaduct bridge project, and $10 million for the Apponaug Circulator in Warwick.
While Chairman of the Interior Appropriations Subcommittee, Reed worked to sustain the federal investment in water and sewer projects, bringing in more than $18 million each year in federal funds to Rhode Island's State Clean Water and Drinking Revolving Fund programs. These funds leverage as much as $3 for every $1 in federal investment and provide low-interest loans so cities and towns can better afford their water infrastructure.
In an effort to expand the state's freight rail service, create jobs, and grow Rhode Island's economy, Reed worked for over a decade to secure $55 million to make the Rhode Island Freight Rail Improvement Project (FRIP) a reality. This improvement has helped quadruple automobile imports at Quonset Point. He also secured $32.9 million to extend commuter rail to Wickford Junction in North Kingstown.
Reed also worked to establish a Southern New England Estuaries program at the EPA to help invest in the health of regional watersheds, including Narragansett Bay.
Reed worked with the Rhode Island Airport Corporation and the Federal Aviation Administration to develop a plan that will provide an estimated $100 million in federal funding to support runway safety and expansion projects at T.F. Green Airport.
In response to the great recession of 2008, Reed voted for the Recovery Act, which provided over $2 billion to help communities throughout Rhode Island prevent layoffs, invest in our infrastructure, and fund innovative research to create jobs.
Reed secured $2.25 million in federal funding, which, together with $1.4 million from RIDEM and $800,000 from the City of Warwick, helped preserve 41 acres of pristine shoreline at Rocky Point.
Read more by visiting Senator Reed's Working for RI page.