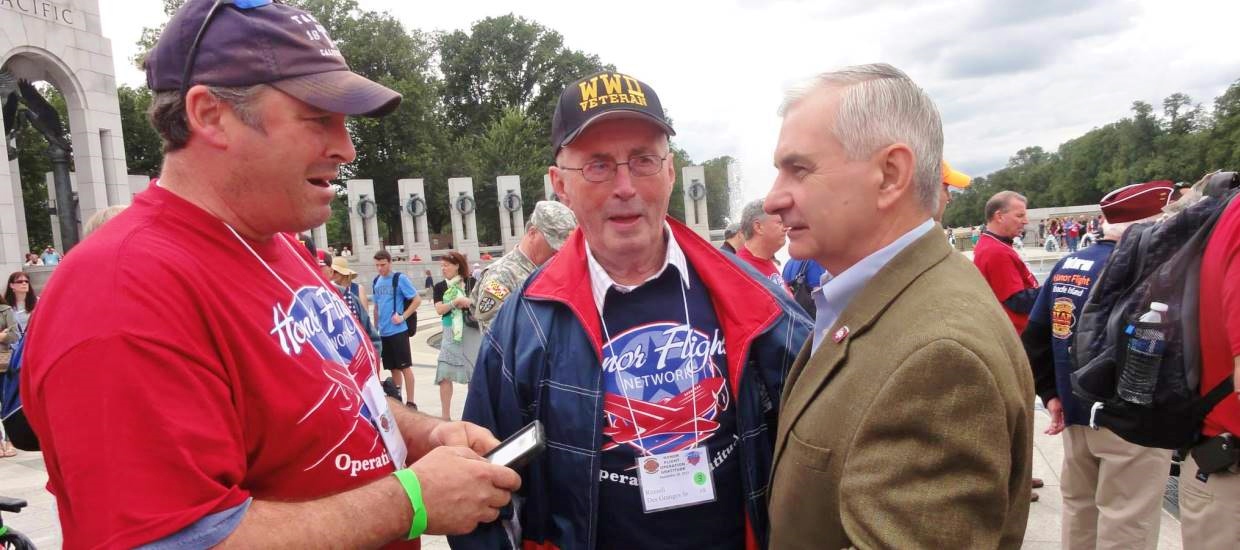 Honoring Our Commitment to Those Who Serve
As a former Army Ranger and company commander, Senator Reed knows what it means to serve, and he understands the dedication of so many men and women who make great sacrifices to defend our nation in uniform.
Reed believes it is imperative to fix the VA health care system so our veterans and their families have access to the quality services they have earned and deserve. That is why he supported the bipartisan Senate legislation to help rectify the systemic issues in the VA health care system and address the excessive wait times veterans have faced when trying to schedule an appointment with VA doctors. The legislation accomplishes this by giving patients the option to seek care at community health centers, military hospitals, or private doctors when wait times or distance to a VA facility are too great, authorizing emergency funds to hire new doctors and nurses, authorizing leases for 26 additional VA facilities, and giving the VA Secretary the authority to dismiss senior executives for poor job performance while safeguarding against political or scapegoat firings.
As a member of the Appropriations Committee, he helped pass the largest veterans budget in history in 2014, which significantly improved resources to process disability claims and treat Traumatic Brain Injury and Post-Traumatic Stress Disorder for those returning from Iraq and Afghanistan. Reed also helped pass the Post-9/11 G.I. Bill, providing better tuition benefits to veterans and their families for college and job training after their service.
Senator Reed knows that we ask a great deal of those in uniform and their families and he is committed to making sure they are not left behind.
Key Priorities & Accomplishments
In an effort to help reduce the backlog of veterans' disability claims, eliminate bureaucratic delays, and deliver benefits to veterans more quickly and efficiently, Reed worked with the VA to make Providence the first Regional VA office in the nation to install a new Veterans Benefit Management System (VBMS).
Senator Reed helped pass the Military Retirement Restoration Act, which reversed a planned one percent cut to the annual cost of living adjustment (COLA) increase for military retirees 62 years of age and younger, which was set to take effect in 2015.
As part of his continuing effort to provide suitable housing for disabled and low-income veterans, Senator Reed introduced the HAVEN Act, which authorizes a competitive, five-year, $20 million pilot program to help make home repairs and improvements for disabled or low-income veterans.
Reed voted to pass the Post-9/11 G.I. Bill, giving substantially more benefits to veterans and their families for college and job training after their service.
To eliminate the disability claims backlog, Senator Reed supported the Appropriations Committee's 10-point plan to provide additional resources and accountability to the VA to improve claims processing. This included an additional $294 million for claims operations in the 2014 budget.
Reed wrote the law to create the Office of Service Member Affairs in the Consumer Financial Protection Bureau (CFPB), and continues to urge the Department of Defense to strengthen the Military Lending Act to further protect service members and their families against abusive financial practices.
Reed helped enact the Veterans Health Care Budget Reform and Transparency Act, which requires a two-year budget for VA medical programs, ensuring better care for our nations' veterans.
To enhance legal and financial protections for members of the military under the Servicemembers Civil Relief Act (SCRA), Senator Reed introduced the Servicemember Housing Protection Act and the SCRA Rights Protection Act. Collectively, these bills would make it easier for service members to work with creditors prior to deployment, extend foreclosure protection to surviving spouses, and protect service members from mandatory arbitration clauses in everyday financial transactions.
Read more by visiting Senator Reed's Working for RI page.