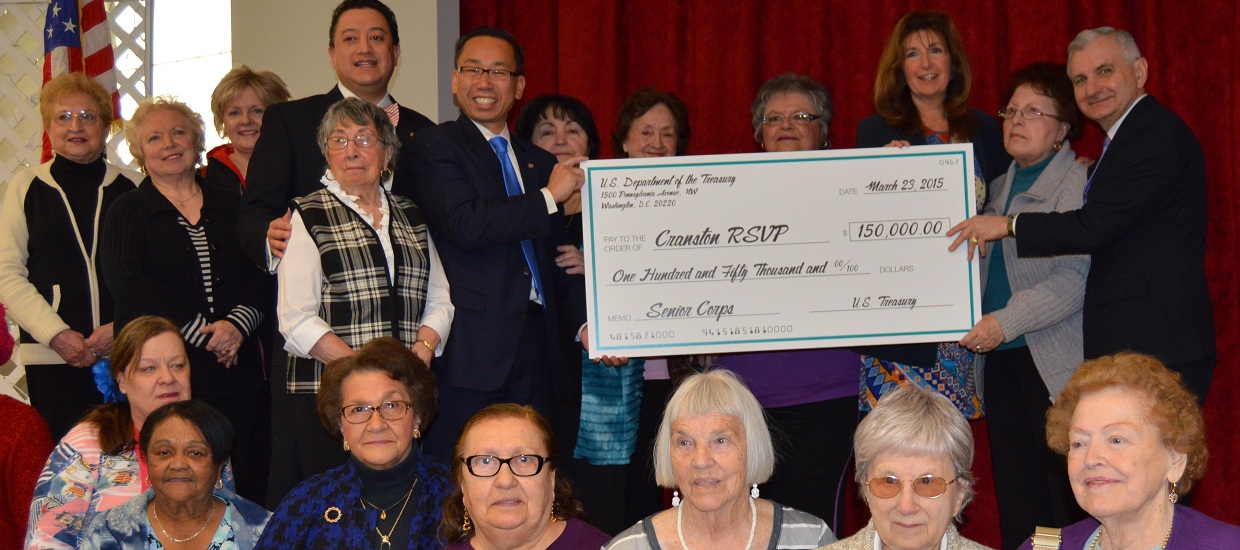 3/23/2015 —
New three-year grant worth $50k annually will help Cranston RSVP volunteers, age 55 and older, focus on community projects
such as healthy aging, environmental stewardship, and veteran and military family support services
CRANSTON, RI – In an effort to support senior volunteer activities in Cranston, U.S. Senator Jack Reed and Mayor Allan Fung today visited members of the Cranston Senior Services' Retired Senior Volunteer Program (RSVP) to thank them for their volunteerism and announce over $150,000 in federal funding to boost their efforts.
During a visit to the Cranston Senior Center, Reed and Fung said federal Serve America Act grant funds are being awarded through the Retired and Senior Volunteer Program, one of three Senior Corps programs administered by the Corporation for National and Community Service (CNCS). Over a three year cycle, Cranston RSVP is scheduled to receive a total of $150,000 ($50,000 annually) in federal funds to support the Cranston Senior Enrichment Center's volunteer programs for local seniors.
The competitive federal grant funds are made available through the Edward M. Kennedy Serve America Act. Cranston RSVP plans to use the funding for additional volunteer opportunities focused on healthy aging, environment stewardship, and veterans and military families.
"The Senior Corps program is a real win-win. It helps seniors stay active and engaged and lets them share their wealth of expertise and skills with those in need. Cranston RSVP is making a positive impact on people's lives. This federal funding will help them continue their services, empower more seniors to get involved, and strengthen their volunteer network," said Senator Reed, a member of the Appropriations subcommittee that oversees Senior Corps funding and a strong supporter of national service programs, who voted for the Edward M. Kennedy Serve America Act.
"This grant provides the opportunities for seniors within the City of Cranston to utilize a lifetime of skills and experience to help other seniors and their community in many areas such as Health, Nutrition, Adult Day Care, Emergency Preparedness, and Scam Prevention Programs. I congratulate Cranston RSVP on receiving this award and thank the many Cranston seniors who work to improve our community as Senior Corps volunteers. Citizen service is an essential part of the solution to many of the challenges facing our communities, especially in these difficult economic times," said Mayor Allan Fung.
The grant competition awarded funds to three new RSVP programs in the agency's six focus areas: disaster services, economic opportunity, education, environmental stewardship, healthy futures, and veterans and military families.
Cranston Department of Senior Services Executive Director Sue Stenhouse said: "I commend our staff, under the direction of RSVP Director David Quiroa, for their tireless work in obtaining these monies to expand our volunteer presence in the community. This grant strengthens our service footprint by providing funding for additional volunteer opportunities focused on healthy aging, the environment and veterans and military families. It is exciting to offer these fulfilling experiences to our ever-growing population of retirees."
Established in 1971, the Retired and Senior Volunteer Program is now one of the largest senior volunteer organizations in the nation and engages older Americans in volunteer commitments in a variety of fields and ranging from a few hours to 40 hours per week in a location of their choice. For more information regarding the current volunteer opportunities with Cranston RSVP, please contact David Quiroa, RSVP Director, at 401-780-6180 or via email: dquiroa@cranstonri.org.
For more information on the Corporation for National and Community Service, visit: http://nationalservice.gov
-end-