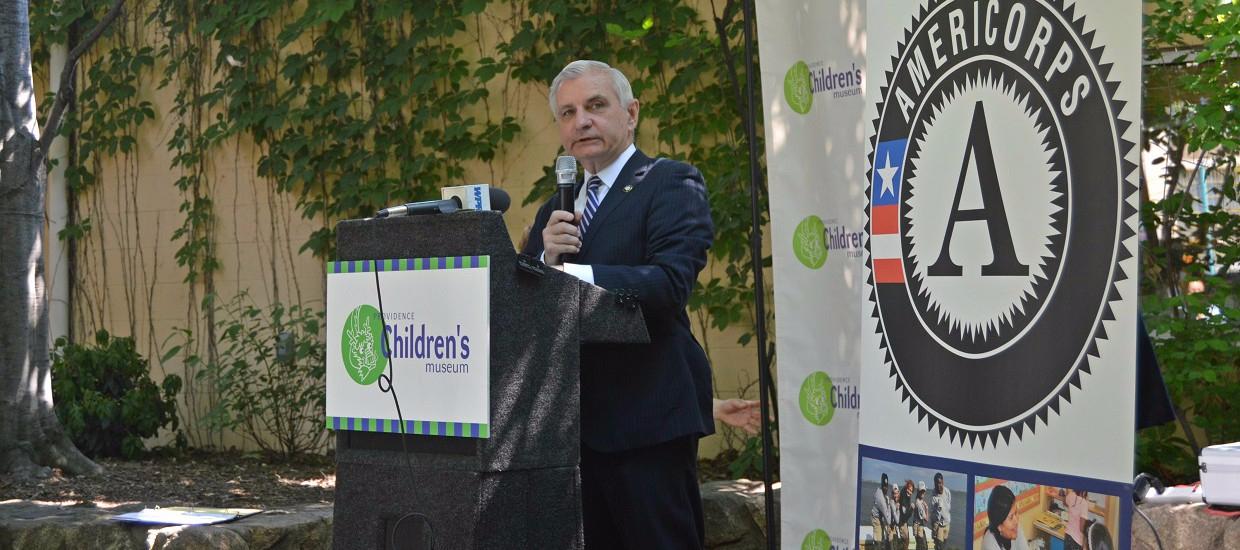 5/04/2018 —
WASHINGTON, D.C. – U.S. Senator Jack Reed today announced over $132,000 in federal funding from the Corporation for National and Community Service (CNCS) for two AmeriCorps Volunteers in Service to America (VISTA) projects in Rhode Island. The Boys & Girls Club of Newport County and the Kent Center for Human & Organizational Development will receive $91,024 and $41,572, respectively, to allow AmeriCorps VISTA members to help the organizations address issues of poverty, homelessness, addiction, and more.
Created in 1965, AmeriCorps VISTA is a national service program designed to alleviate poverty in America. AmeriCorps VISTA members serve full-time for one year at non-profit organizations, schools, or local government agencies, multiplying their impact and building their capacity to carry out essential projects. By recruiting and managing community volunteers, fundraising, coordinating projects, and more, AmeriCorps VISTA members make anti-poverty organizations stronger. They serve nationwide, supporting local programs that reduce homelessness, improve health services, develop financial assets, improve academic performance, and expand job opportunities for those in need.
"AmeriCorps members work hard and make a tremendous difference in the communities they serve, and these funds are excellent news for the state" said Senator Reed. "I wish the members all the best as they take on a diverse array of challenges to better our communities and help disadvantaged youth and those struggling with homelessness, drug addiction, and more."
The Boys & Girls Club of Newport County is a non-profit organization dedicated to the healthy lifestyle and academic advancement of youth. With a membership of more than 1,900 individuals and outreach activities that positively impact more than 5,500 youth annually, the Club plays a vital role in strengthening and supporting the community it serves. The Club is also leading the Newport Working Cities Challenge Initiative, an economic development effort started by the Federal Reserve Bank of Boston to address local issues affecting lower-income residents, specifically the North End neighborhood of Newport. AmeriCorps VISTA members working with the Boys & Girls Club of Newport County will develop and implement new workforce development programming that will provide job skills readiness trainings and job placement assistance to 200 low-income youth and adults.
The Kent Center for Human & Organizational Development's mission is to improve the quality of life for individuals and families facing behavioral health challenges. The Kent Center helps coordinate the Rhode Island Supplemental Security Income (SSI)/Social Security Disability (SSDI) Outreach, Access, and Recovery (SOAR) program, which seeks to increase and expedite access to disability benefits for low-income and/or disadvantaged adults. AmeriCorps VISTA members will help the SOAR program double current organizational capacity to benefit an additional 75 individuals from the state who are experiencing homelessness or suffering from a disabling mental illness, co-occurring substance use disorder, trauma, or other medical issues.
Last year, CNCS invested more than $6.2 million to strengthen communities across Rhode Island, with more than 3,100 Americans of all ages and backgrounds meeting local needs, strengthening communities, and expanding economic opportunity through national service.
A Senior Member of the Senate Appropriations Committee, Senator Reed helped secure $1.06 billion for the CNCS to help more than 5 million Americans improve the lives of their fellow citizens in the Fiscal Year 2018 Omnibus Appropriations bill. He also introduced the America's Call To Improve Opportunities Now (ACTION) for National Service Act in November 2017 to expand the number of national service opportunities available across the country, increase the educational award service members earn for college, and foster greater engagement in national service from the private sector.