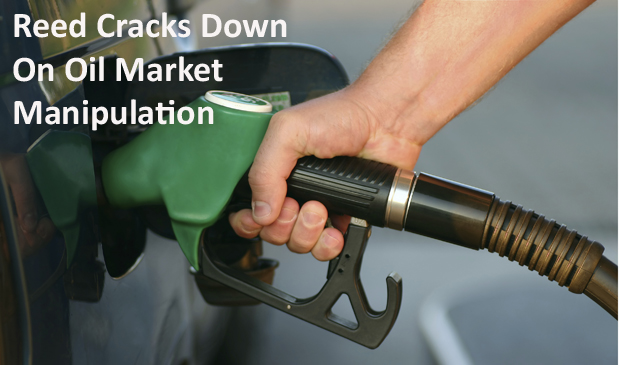 4/17/2012 —
WASHINGTON, DC – In an effort to protect consumers and curb rising gas prices, U.S. Senator Jack Reed is backing President Obama's efforts to strengthen federal oversight of oil markets, stiffen penalties for market manipulation, and raise margin requirements energy traders must put behind their transactions.
Reed, who last year successfully urged the Obama Administration to create a new federal task force to investigate whether speculators are driving up prices in energy commodity markets through manipulative or deceptive practices, said new rules and tougher penalties are needed to fight market manipulation and abuse.
"I am pleased the Obama Administration is aggressively confronting oil speculation. Excessive speculation on Wall Street can drive up gas prices on Main Street. The price of oil should be based on supply and demand, not on the availability of debt to finance speculative bets. Aggressively policing fraud and abuse and cracking down on manipulators can help drive down energy costs and provide relief to Rhode Islanders and Americans across the country," said Reed.
According to the Energy Information Administration, the supply of oil and gasoline is higher today than three years ago, when the national price for a gallon was $1.90. And while the national price of gasoline has doubled since then, the demand for oil in the U.S. is at its lowest level since April of 1997. Meanwhile, financial speculators such as hedge funds account for about 65 percent of purchases of contracts for future oil deliveries, while airlines and other buyers who intend to actually take delivery of the oil and use it, account for only one-third of market sales.
"Wall Street speculators now control a majority of the energy futures market. We need to close these loopholes, increase transparency, and ensure fairness to get our markets working again," noted Reed.
A study by the non-partisan Consumer Federation of America found that speculation caused the average American household to spend an additional $600 on gasoline expenditures in 2011. The report concluded that excessive speculation, which was estimated to add about $30 per barrel to the cost of oil in 2011, drained more than $200 billion in consumer spending from the U.S. economy last year.
Currently, the average cost of a gallon of gasoline in Rhode Island is $3.98 per gallon, 7 cents above the $3.91 national average, and 13 cents higher than it was a year ago.
President Obama proposed investing $52 million on a plan to:
Put More "Cops on the Beat" Overseeing Oil Markets: Increase funding to support at least a six-fold increase in the surveillance and enforcement staff for oil futures market trading at the CFTC.
Fund Critical Technology Upgrades in the Oversight and Surveillance of Energy Market Activity: Provide the CFTC funding for critical IT upgrades to strengthen monitoring of energy market activity.
In addition, the President proposed the development of the following initiatives:
Substantially Increase Civil and Criminal Penalties for Manipulation in Key Energy Markets: A ten-fold increase in maximum civil and criminal penalties for manipulative activity in oil futures markets will make sure that penalties reflect the seriousness of misconduct.
Empower the CFTC to Raise Margin Requirements in Oil Futures Markets: Give the CFTC authority to direct exchanges to raise margin requirements to address increased price volatility or prevent excessive speculation or manipulation. This authority will help limit disruptions and reduce volatility in oil markets.
Take Immediate Steps to Expand Access to CFTC Data to Better Understand Trading Trends in Oil Markets: These executive actions will allow additional analysis of CFTC's data to look for patterns and better understand trading activity in energy markets.
Senator Reed has fought for a national energy policy that creates jobs, reduces our dependence on foreign oil, and saves families and businesses money through improved efficiency for cars, appliances, and insulation.
To help reduce consumers' pain at the pump, Reed has long championed increased fuel efficiency for vehicles and succeeded in pushing for new rules setting a 35.5 miles per gallon average for the U.S. auto industry by 2016, which could help cut fuel use by 40%.
Senator Reed believes that consumers should not have to effectively pay twice at the pump for the same gallon of gas, and has supported efforts to end subsidies for big oil companies, especially at times of record profits for the industry.
As Chairman of the Appropriations Subcommittee on Interior and Environment, Reed has supported efforts to safely and responsibly increase domestic oil and gas production. And to help protect taxpayers and the environment, Reed has fought for stronger oversight of energy companies drilling in public lands and waters and to ensure energy companies are paying their fair share of royalties to the American people.
"Lowering gas prices and reducing our dependence on foreign oil requires a smart, balanced, and responsible national energy policy," concluded Reed. "I will continue working with President Obama and my colleagues in Congress to fuel the U.S. economy, lower gas prices, and protect consumers."