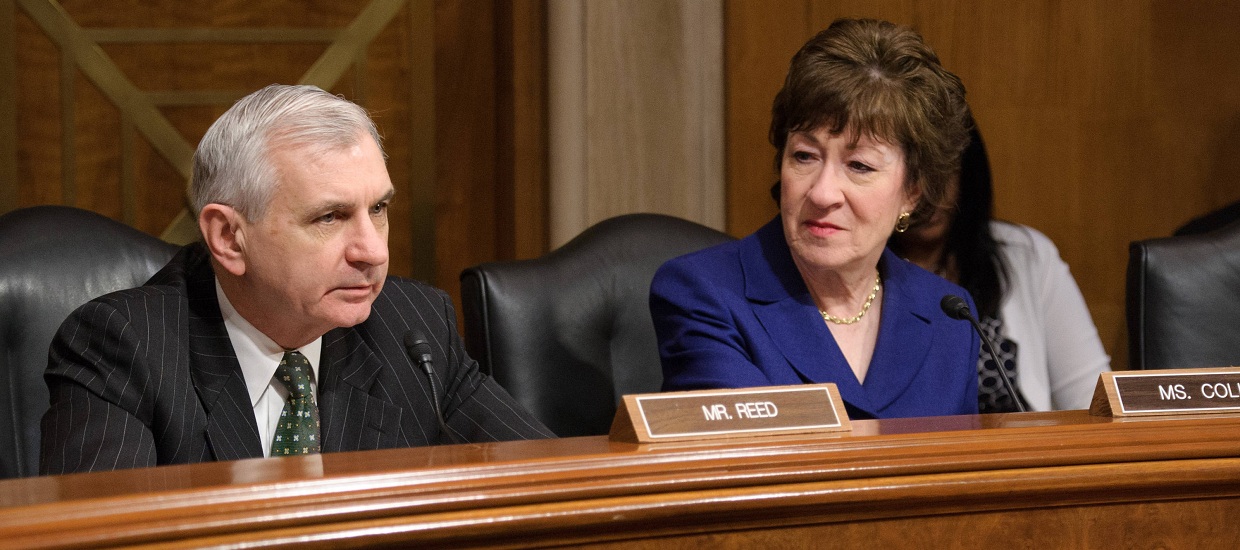 4/22/2015 —
WASHINGTON, DC – At a hearing today of the Appropriations Subcommittee on Transportation, Housing and Urban Development, and Related Agencies (THUD), Ranking Member Jack Reed (D-RI) called on Congress to work in a bipartisan fashion to address sequestration and pass a fiscal year 2016 THUD Appropriations bill that boosts funding to improve our nation's transportation infrastructure. In addition, in an effort to strengthen the U.S. economy and repair our nation's highways, bridges, and roads, Reed is pushing for a robust, long-term surface transportation authorization bill to address the Highway Trust Fund before it runs dry this spring. However, Reed warned that partisan gridlock in Congress could stymie efforts to fund investments in our nation's infrastructure that are necessary to help America compete in the 21st century.
"We have pressing infrastructure needs. Congress must pass bipartisan legislation that invests in transportation systems, generates jobs, and improves public safety. We should be helping communities to improve and expand transportation choices for the future, but instead we're at risk of falling further behind. Partisan gridlock is preventing necessary investments from keeping pace with demand and closing the gap in our infrastructure deficit," said Reed.
Testifying before the subcommittee, U.S. Secretary of Transportation Anthony Foxx laid out the Obama Administration's fiscal year 2016 budget request, which proposes a total of $94.7 billion in 2016 for the U.S. Department of Transportation (DOT) to improve our roads and bridges, modernize our rail networks, invest in public transit systems, and bring our aviation system into the 21st century. These investments will enhance safety, spur job creation, and strengthen our economy.
Some of the highlights of the proposed DOT FY2016 budget include:
$15.8 billion for the FAA, which fully funds the air traffic controller workforce and invests $956 million in the Next Generation Air Transportation System (NextGen), an overhaul and modernization of the nation's airspace system.
$2.4 billion for Amtrak to fund state of good repair projects and work towards the replacement of century-old bridges and tunnels along the northeast corridor;
$1.25 billion for the popular Transportation Investment Generating Economic Recovery (TIGER) program, which is in high demand and consistently overwhelmed by demand for grants;
$908 million for the National Highway Traffic Safety Administration, which will allow for the agency to improve vehicle safety defect investigations and analysis; and
$243 million for the Federal Railroad Administration, which will support the hiring of 84 additional rail safety staff and inspectors to ensure the safety of our freight and commuter railroads
In addition to addressing the immediate funding need for 2016, the budget proposal also addresses long-term funding needs for DOT's surface transportation programs. For decades, the federal Highway Trust Fund has supported repairs, maintenance, and new construction of roads, bridges, and public transportation across America. The Trust Fund's primary source of revenue comes from the 18.4 cent-per-gallon federal gasoline tax and a 24.4 cent-per-gallon tax on diesel fuel. The challenge now is that the federal gas tax, last adjusted in 1993, doesn't generate nearly enough money to cover current levels of spending on these programs – let alone the increase necessary to build the kind of transportation systems we will need moving forward.
Reed has repeatedly urged his Senate colleagues to find a long-term solution to keeping the Highway Trust Fund solvent and make critical investments. However, he also noted that a any long-term solution must include significant funding increases to address our nations crumbling infrastructure.
"Secretary Foxx has submitted a thoughtful plan that begins to grapple with difficult issues. I applaud you for laying it on the table. Now Congress needs to make tough choices and pass a meaningful legislation," added Reed. "Our state and local governments have been struggling for years with minimal increases in funding. Locking in these levels long-term, does not give them the kind of relieve the need or deserve."
Rhode Island relies heavily on federal funding for surface transportation projects. Before a short-term extension of the Highway Trust Fund was approved last summer, days before funding was to lapse, the Rhode Island Department of Transportation had already put 20 projects valued at $67 million on hold because of the funding uncertainty. Reed noted that in Rhode Island, 20% of the state's bridges are in poor condition and without greater investment that could reach over 40% by 2025. The state estimates it would take an additional $80 million a year to reverse this trend.
At the hearing, Reed thanked Secretary Foxx for his recent visit to Rhode Island, where the Secretary witnessed some of the progress being made in the state with the help of smart federal investments. These projects included the modernization and extension of a runway at T.F. Green Airport that has been integral to attracting new tourism, jobs, and business to Rhode Island, as well as investments in the Port of Davisville at Quonset Point, which has evolved into one of the top-ten North American Ports for auto imports.
-end-