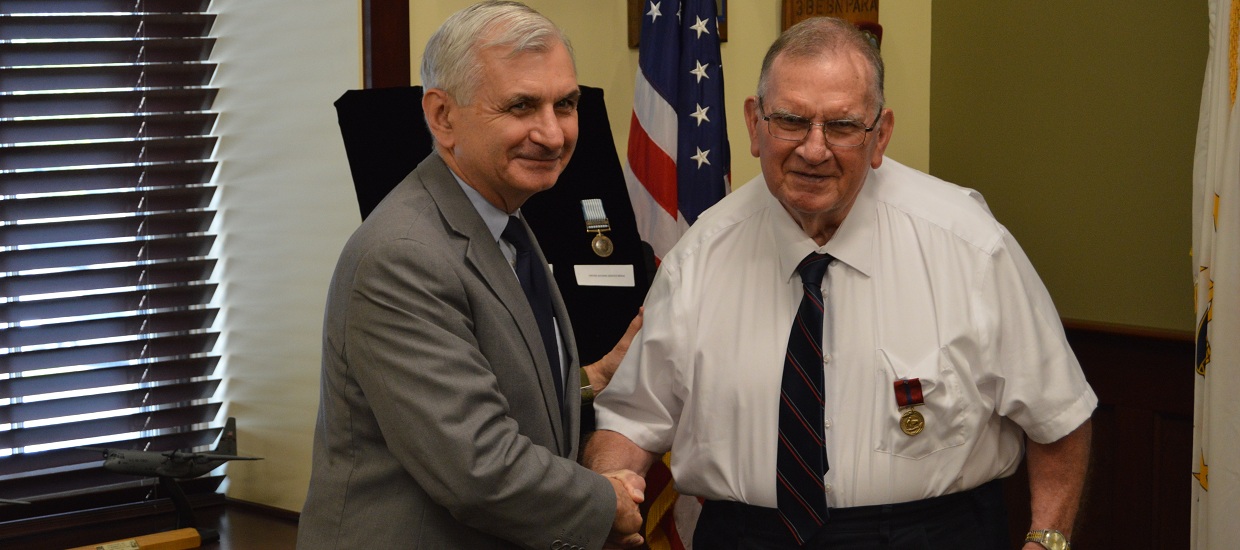 6/19/2015 —
CRANSTON, RI – U.S. Senator Jack Reed today hosted a special medal ceremony in his Cranston Office to honor Korean War Veteran, Cpl. Francis Stanley Klucznik, 80, of Pawtucket with the military honors he earned but never received during his service in the United States Marine Corps.
Born in Central Falls in 1935, Cpl. Klucznik was just 18 years old when he joined the Marines in March 1953.
Towards the end of the Korean War, Cpl. Klucznik served with the 2nd Marine Aircraft Wing, which provided aviators and air crewmen, as well as maintenance and support personnel, to forward-deployed aviation units during the conflict. He served with the Marines until March 1956.
Reed presented Cpl. Klucznik with the military honors he earned including: the National Defense Service Medal, the Korean Service Medal, the Marine Corps Good Conduct Medal with 1 Bronze Star, the United Nations Service Medal, the Republic of Korea War Service Medal, and the Discharge Button.
"It is an honor to present Mr. Klucznik with the military honors he earned while serving our nation during the Korean War. While it has sometimes been called 'the forgotten war,' nothing could be further from the truth for those who served and the loved ones they left behind. Today we offer Francis a small token of our gratitude for his selfless service, and our lasting respect for the sacrifices he made on our behalf, which will never be forgotten," said Reed, a former Army Ranger and the Ranking Member of the Senate Armed Services Committee.
The attention to orders for the awards note that Cpl. Klucznik's service "was in keeping with the highest traditions of the United States Marine Corps and reflects great credit upon himself and the United States of America."
-end-