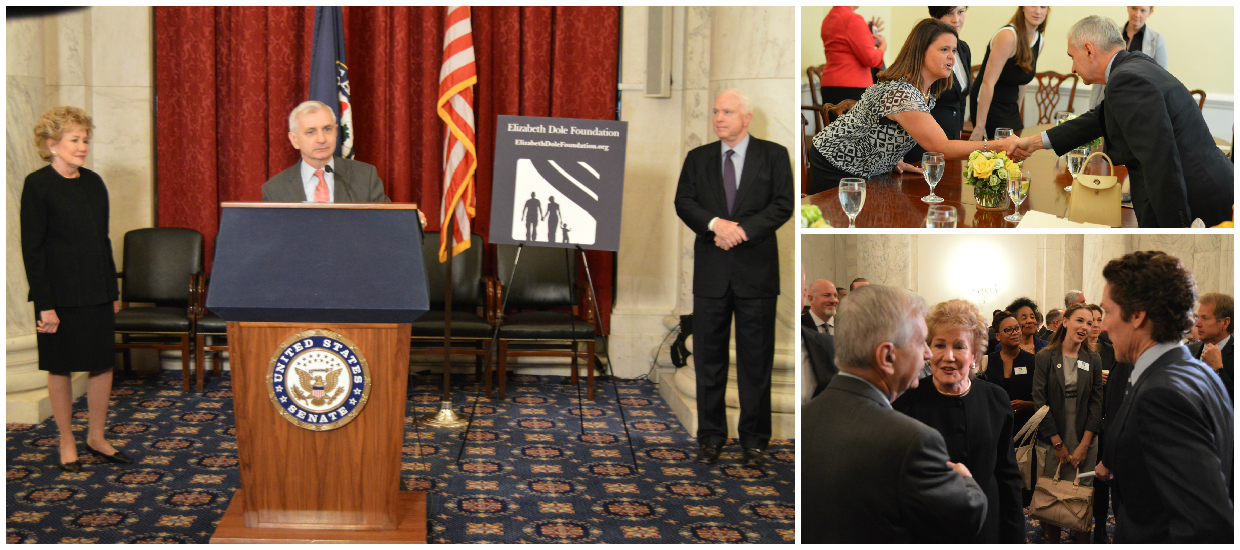 5/21/2015 —
WASHINGTON, DC – U.S. Senator Jack Reed today joined former U.S. Senator Elizabeth Dole, Senator John McCain (R-AZ), Lakewood Church Pastor Joel Osteen, and scores of military families on Thursday for an interfaith breakfast and celebration honoring military and veteran caregivers. Reed co-chairs the Hidden Heroes Congressional Caucus, alongside McCain, House Democratic Leader Nancy Pelosi, and Chairman of the House Veterans Affairs Committee, U.S. Representative Jeff Miller (R-FL).
The bipartisan Hidden Heroes Congressional Caucus seeks to raise awareness on Capitol Hill and develop legislation in support of the 5.5 million spouses, parents, children, and other loved ones serving as volunteer caregivers tending to their ill and injured warriors at home.
"I want to thank Senator Dole for her attention to the needs of military caregivers, and for bringing us together to form the Hidden Heroes Congressional Caucus. Just as so many brave Americans have made extraordinary sacrifices in service to our nation during the past decade of war, so too have millions of family members and friends, especially those who have taken on the additional role of caregiver for a wounded warrior," said Reed, the Ranking Member of the Senate Armed Services Committee. "Advances in medicine and rehabilitation have saved lives and allowed our wounded warriors to return to their homes and communities much more rapidly than at any other time in history. But for some, technology only goes so far. Husbands and wives, mothers and fathers, brothers and sisters, other relatives and friends are there every day and night caring for their loved one, and we honor them today and every day."
Family members and loved ones often shoulder the responsibility of bathing, feeding, dressing, managing medication and injections, and arranging for rehabilitation for their wounded veterans at home, all while many are raising a family. A recent RAND study commissioned by the Elizabeth Dole Foundation estimates the services provided by these "hidden heroes" save our nation $13.6 billion annually, yet these caregivers too often pay a heavy price, suffering physical and emotional stress and illnesses; struggling to maintain employment; and confronting a variety of financial, legal and family strains.
This week the Elizabeth Dole Foundation is marking one year since the launch of its National Hidden Heroes Coalition. The Coalition draws support from the public, private, nonprofit, labor and faith communities to uplift American military and veteran caregivers by strengthening the services afforded to them through innovation, evidence-based research, and collaboration.
-end-