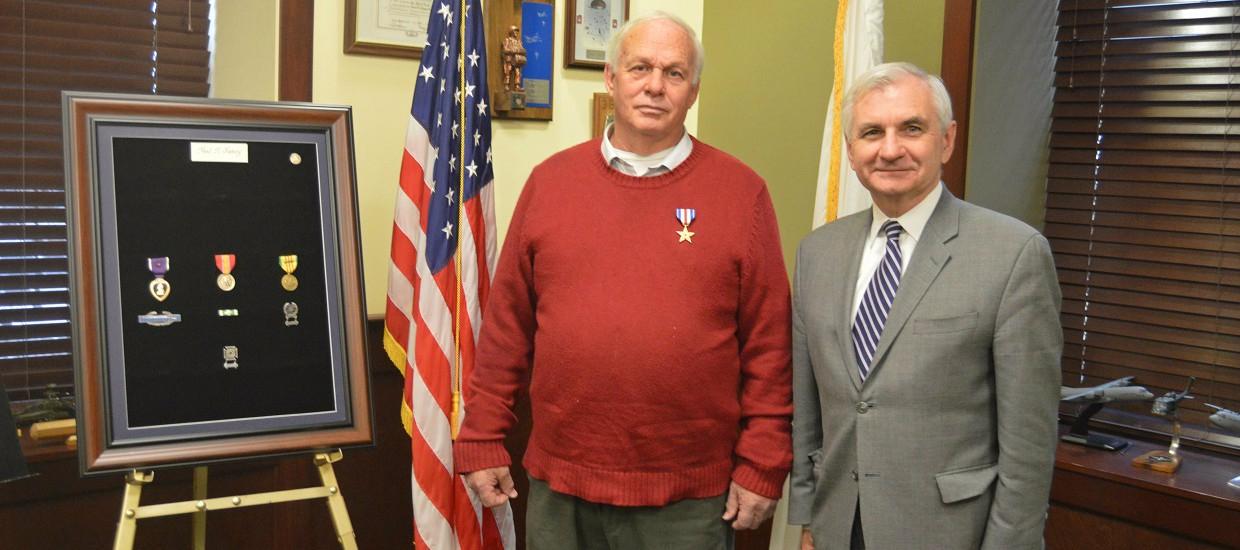 12/08/2017 —
CRANSTON, RI - U.S. Senator Jack Reed today presented Jamestown resident and Vietnam veteran Paul Harvey with medals he earned but never received for his service during the Vietnam War. A veteran of the United States Army, Mr. Harvey received a Silver Star Medal, the military's third-highest personal decoration for valor in combat, as well as a Purple Heart Medal with one Bronze Oak Leaf Cluster, among other awards.
Born in Gloucester, Massachusetts in 1946, Paul Harvey moved to Narragansett in 1948 and also lived on Long Island, New York and in Nova Scotia, Canada where he attained dual American-Canadian citizenship before settling permanently in Jamestown, Rhode Island in 1983.
Mr. Harvey was drafted into the U.S. Army in 1967 and completed basic training at Fort Jackson in South Carolina. He served in Vietnam as a member of the Army's 1st Battalion, 27th Infantry Regiment, 25th Infantry Division ("Wolfhounds"), and saw significant combat action and was wounded on the battlefield. He completed his military service and was honorably discharged in 1973.
In addition to the prestigious Silver Star and Purple Heart, Mr. Harvey was also presented with other military honors he earned but never received after completing his service, including: National Defense Service Medal; Vietnam Service Medal with four Bronze Service Stars; Combat Infantry Badge/1st Award; Republic Of Vietnam Campaign Ribbon with Device (1960); Expert Badge Rifle Bar; and Sharpshooter Badge with Auto Rifle Bar.
"As a young man, Paul Harvey made it through some very tough stuff in Vietnam and I am honored to present him with these medals. They are a reminder of his service to our country, and a token of our gratitude for the sacrifices he made on behalf of our nation," said Senator Reed.
The attention to orders for the ceremony noted: "Mr. Harvey's service was in keeping with the highest traditions of the United States Army and reflects great credit upon himself and the United States of America." The orders continued: "Our nation and the State of Rhode Island gives our grateful thanks to Mr. Harvey for his dedicated and loyal service to the United States Army."

After completing his military service, Mr. Harvey worked as a commercial fisherman for 45 years.