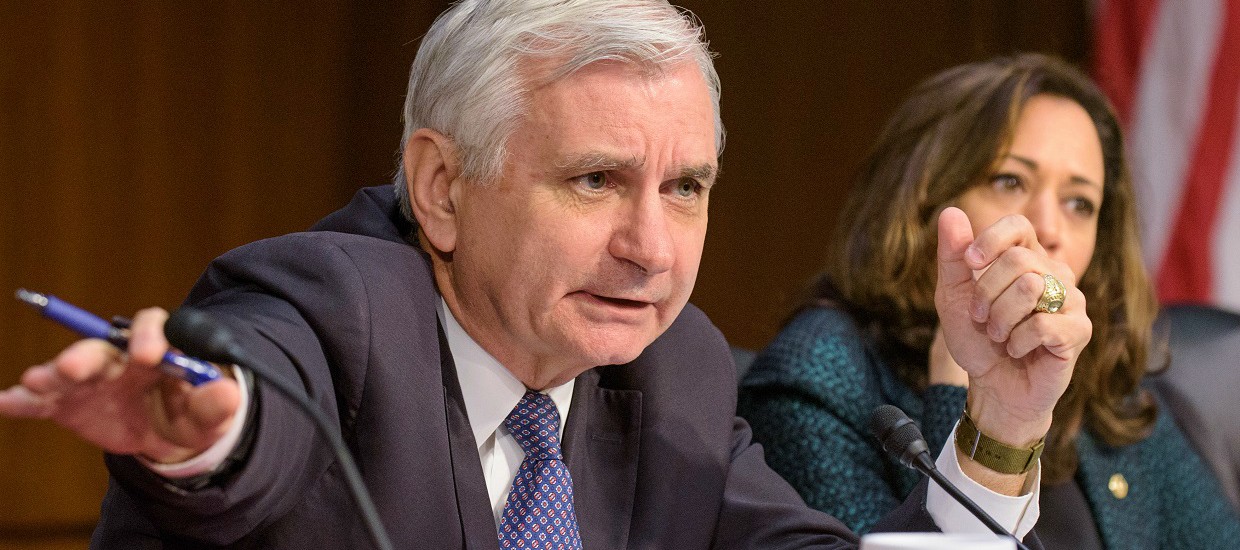 11/16/2018 —
PROVIDENCE, RI – After touring the Providence VA Medical Center (VAMC) and visiting with local veterans, U.S. Senator Jack Reed today called on the Trump Administration to step up efforts to support veterans and military families nationwide.
Senator Reed says this issue goes well beyond President Trump skipping the Armistice Day memorial in France and failing to honor or observe Veterans Day events in the United States. And he noted that it is not just an issue at the U.S. Department of Veterans Affairs (VA). Under the Trump Administration, federal agencies such as the U.S. Department of Education, the Consumer Financial Protection Bureau, and others are shortchanging veterans and making it harder for them to access things like education, health care, housing, and other benefits they have earned.
Senator Reed noted that a VA computer glitch that was identified in April has led to thousands of veterans still not receiving education and housing payments on time and urged the Trump Administration to do more to fix the VA's information and technology network, despite Congress providing record levels of funding.
"Our veterans deserve the best care possible and access to all the benefits they have earned. But the Trump Administration is doing a real disservice to our veterans and military families. President Trump's indifference to veterans seems to be pervasive throughout this Administration and it is unacceptable. From mismanagement of VA IT systems that are causing delays and underpayments to veterans, to trying to roll back enforcement of the Military Lending Act, which protects active-duty service members and veterans from getting cheated by predatory lending practices, the Trump Administration is failing to support the men and women who have served our nation so admirably," said Senator Reed, a former Army Ranger. "No veteran should have to face homelessness because of woefully-delayed GI Bill payments. Congress has approved record funding and the Trump Administration needs to step up and fix this mess."
After a Freedom of Information Act request by Veterans Education Success, a veterans non-profit, demonstrated that 25,000 disabled veterans are already in default on their debt, despite the fact that they are entitled to a discharge of that debt based on their "total and permanent disability," Senator Reed led a letter to Education Secretary Betsy DeVos demanding answers about why the Trump Administration continues to seek repayment on federal student loans from severely disabled veterans who have been deemed unable to work and are eligible for student loan forgiveness.
"It is unacceptable for President Trump and Secretary DeVos to put the interests of for-profit schools ahead of our students and veterans," said Senator Reed. "It's time for the Trump Administration to stop merely acting like it cares about veterans and actually start working to ensure disabled veterans aren't being unfairly burdened and taken advantage of. The Administration has the capability to automatically provide these loan discharges, it just needs to put the interests of our veterans first. I urge the Trump Administration to staff up the VA and other federal agencies and make our veterans a real priority."