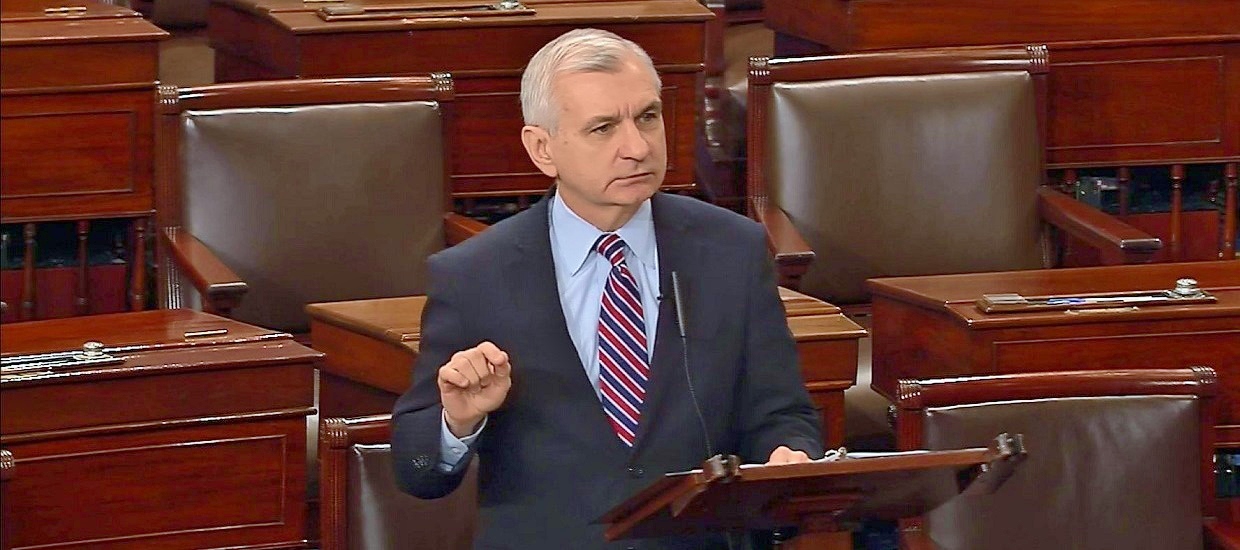 12/09/2014 —
SENATE FLOOR STATEMENT
Mr. REED. Mr. President, I would like to take a few minutes to salute my colleagues who are departing the Senate at the end of this year with the conclusion of the 113th Congress: Mark Begich of Alaska, Saxby Chambliss of Georgia, Tom Coburn of Oklahoma, Kay Hagan of North Carolina, Tom Harkin of Iowa, Mike Johanns of Nebraska, Tim Johnson of South Dakota, Mary Landrieu of Louisiana, Carl Levin of Michigan, Mark Pryor of Arkansas, Jay Rockefeller of West Virginia, Mark Udall of Colorado, and John Walsh of Montana.
They have all worked hard, ceaselessly giving their energy and considerable time and service to their constituents, to their home States and to our country. I want to thank them for their service and for their kindness to me over many, many years in so many cases. In particular, I want to say a few words about these colleagues.
MARK BEGICH
Mark Begich and I worked together to address the challenges facing the fishing industry, which is vital to both of our States. He has continually fought to address the unique challenges facing Alaskans, particularly with respect to access to VA health care. I salute him and wish him the best.
SAXBY CHAMBLISS
I have served with Saxby Chambliss on the Armed Services Committee and joined him in his efforts to support the National Infantry Museum and Soldier Center. Saxby has been a strong supporter of our men and women in uniform. He has also been a leader on homeland security and intelligence matters. I wish him well.
TOM COBURN
Tom Coburn has always been passionate on the issues he cares about. We have engaged in vigorous debate, demonstrating, I hope, that principled disagreement can lead ultimately to principled progress. My thoughts are with him, particularly as he battles health issues, his cancer. I hope and wish him success and much happiness as he moves forward.
KAY HAGAN
I have served with Kay Hagan on the Banking, Housing, and Urban Affairs Committee and on the Armed Services Committee. We have worked together on a number of initiatives, including efforts to keep student loan interest rates low. We traveled together to Iraq, Afghanistan, and Pakistan in 2010. She has been a tremendous advocate, especially for our military families and for small businesses.
TOM HARKIN
Tom Harkin has been a great friend, a longtime advocate for students, for workers, for individuals with disabilities. As Chairman of the Health, Education, Labor, and Pensions Committee, he has worked to end the logjam and pass reauthorizations of our childcare programs and the workforce investment system, and he recently worked with me to pass a bipartisan bill I helped author to ensure consumers have access to the safest, most effective sunscreens available.
He has been a steadfast advocate for increasing our investment in medical research at the NIH. An extraordinary Senator, we have so much to thank him for on behalf of every American. His legacy is going to be so profound. It is hard to pick one. But his efforts, along with Arlen Specter's, to double NIH funding was a landmark in terms of not only successful investment in programs that matter to Americans and the world but bipartisan efforts to lead the country forward.
MIKE JOHANNS
I have been proud to work with Mike Johanns, an extraordinary Senator and an extraordinary gentleman, on a number of issues. We were particularly happy--both of us--when the HAVEN Act was incorporated into the pending version of the National Defense Authorization Act. This legislation will allow disabled and low-income veterans the ability to finance improvements to their homes so they are safer and more accessible. We also worked together on healthy housing efforts and to reduce lead hazards. This is consistent with so many things he has done, particularly with respect to veterans. Again, I wish him the best as he goes forward.
TIM JOHNSON
Tim Johnson and I served in the House of Representatives together. We came to the Senate together in 1997. As chairman of the banking committee, he has been an extraordinary leader. He has dedicated himself particularly to community banks and to rural housing, which is consistent with the interests of his constituents in South Dakota.
He has worked to build bipartisan compromise on issues like TRIA and FHA reform, among so many other matters. As the chairman of the Appropriations Subcommittee on Military Construction, Veterans Affairs, and Related Agencies he has been a tireless advocate for our military personnel. I thank him.
MARY LANDRIEU
Mary Landrieu and I also came to the Senate together in 1997. We served together on the Appropriations Committee, where she has been an extraordinary advocate for Louisiana, particularly after Hurricane Katrina. In fact, her efforts have been so profoundly influential in her home State, she is one that we all look to as a model for what it is to be an advocate for your constituents. She has done it so well.
MARK PRYOR
Mark Pryor and I have worked together on the Appropriations Committee. We have worked together on a number of initiatives. I want to thank him particularly for his role in trying to help states like Rhode Island be included in the Commodity Supplemental Food Program. I thank Mark for that. I offer him my fondest wishes.
JAY ROCKEFELLER
Today, we are recognizing the work of Jay Rockefeller as chairman of the Intelligence Committee, along with Senator Feinstein. But he has been such a stalwart in so many different areas: as chairman of the commerce committee, someone who has championed the Children's Health Insurance Program, someone who has been in the lead with respect to advocacy for the E-Rate, which helps bring broadband connectivity to all of our libraries and schools, to EPSCoR. I can go on and on for a remarkable career by a remarkable individual, a real gentleman, someone whom I am proud to call a friend and am deeply indebted to his friendship.
MARK UDALL
Mark Udall and I served together on the Armed Services Committee. I am grateful to have traveled with him also to Afghanistan and Pakistan in 2011. Again, he is committed to our troops, committed to our national security, committed to his home State. He has been an advocate for clean energy, for natural resources, for things that will be a legacy for generations to come in Colorado and throughout the United States.
JOHN WALSH
John Walsh is a friend that I met and served with over the last several years. I want to salute him, not only as a Senator but as a combat veteran. He has had the greatest privilege that I believe any American has--the privilege to lead American soldiers. He did it well. I thank him for that.
CARL LEVIN
But let me say, especially, a few words about my dear, dear friend Carl Levin. For 18 years, Carl Levin has either been chairman or ranking member of the Armed Services Committee. The U.S. military, the most powerful and professional force in the world, has in countless ways been shaped because Carl Levin repeatedly helped form a new common ground to move us forward as a Nation for the benefit of our men and women in uniform and for the benefit of us all.
CARL and I have traveled many times together--Bosnia, Kosovo, Iraq, Afghanistan, Pakistan, Israel, Syria, Colombia. We were there to visit with commanders and local leaders, but especially to see our troops and to thank them. In the faces of those troops I saw the trust and respect they felt--some to their own surprise--when they met the chairman--the powerful chairman of the Armed Services Committee. He was there. He had traveled across the globe to listen to them, to work for them, and to thank them.
It was profoundly moving to me to see this--inspiring indeed. As the chairman of one of the other major committees, the Permanent Subcommittee on Investigations, he has pursued the powerful on behalf of the powerless, on behalf of the people. He has not only uncovered abuse, but he has sent a powerful message to an increasingly discouraged America that there is someone who will fight for them, who understands that everyone deserves a fair chance at a better future.
Carl Levin has been a friend, a role model. I will miss working with him.
Along with all of my other colleagues who are leaving us at the conclusion of the 113th Congress, let me thank them for their service, their dedication to improving the lives of Americans, and on a very personal level for their friendship. I wish them all well.