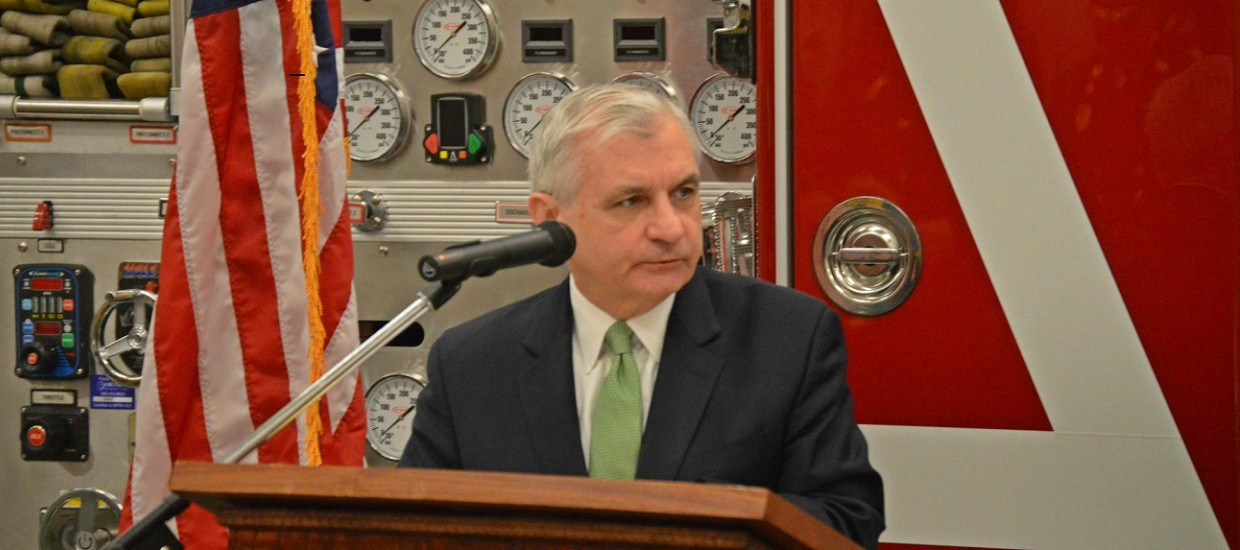 8/30/2019 —
WEST WARWICK, RI – In an effort to help local fire departments enhance response capabilities and improve fire protection services, U.S. Senators Jack Reed and Sheldon Whitehouse and Congressman Jim Langevin today announced $289,720 in federal funding to help the Narragansett and West Warwick Fire Departments provide needed training and new equipment to firefighters.
The federal funds are being awarded through the Federal Emergency Management Agency's (FEMA) Assistance to Firefighters Grant (AFG) Program, which helps fire departments purchase equipment, training, emergency vehicles, and other firefighting and fire prevention activities.
The Narragansett Fire Department will use its $70,333 grant to fund a new National Fire Protection Agency (NFPA) Fire Services Officer Training Program to help prepare a new generation of firefighters for leadership and senior officer positions within the department. The funds will also be used to purchase air monitoring equipment to detect hazardous gasses that can threaten the health and safety of firefighters.
The West Warwick Fire Department will use its $219,387 grant to fund training programs that will help provide officers with nationally-recognized professional certification training. The department will ensure that company officers meet the latest certifications for NFPA Fire Instructors, Fire Officers, and Incident Safety Officers, as well providing training for NFPA Aerial Operator certifications.
"I commend the Narragansett Fire Department and West Warwick Fire Department for their efforts to safeguard our communities and enhance public safety. I salute our firefighters and am pleased to help deliver these federal funds to help them do their jobs safely and efficiently," said Senator Reed, a senior member of the Appropriations Committee that oversees FEMA funding, who wrote letters to FEMA in support of Narragansett and West Warwick's applications.
"We depend on first responders to protect us in the most dangerous situations, and they depend on their equipment and professional training to do their jobs safely," said Senator Whitehouse. "These grants will help Narragansett and West Warwick first responders serve their communities. We're grateful for the work they do. Thanks also to Senator Reed for leading grant-making seminars that help Rhode Island cities and towns be so successful in landing this funding."
"Firefighters put their lives on the line to keep our communities safe, and they deserve access to the best training and equipment available," said Congressman Langevin, a senior member of the Committee on Homeland Security, which oversees the AFG program. "I was proud to support Narragansett and West Warwick's federal grant applications, and I congratulate both departments on winning these competitive awards."
"This award will provide the funding necessary for the purchase of advanced air monitoring equipment for the detection of hazardous gasses encountered during fire suppression, overhaul, and other potentially dangerous environments our firefighters may encounter, such as those within our educational and medical laboratories or the confined cargo wells of the many fishing vessels berthed within our Port," said Narragansett Fire Chief Scott Partington. "The award will also provide for enhanced NFPA Fire Officer training for many of our firefighters to help educate and prepare them for future leadership roles. I would like to thank Senator Reed and the rest of Rhode Island Congressional delegation for their continued support towards the Assistance to Firefighter Grant program. Grant programs like the AFG and SAFER augment local funding and provide much needed assistance to help meet the expanding role the fire service continues to play in our communities."
"The West Warwick Fire Department has been selected to receive a FEMA Assistance to Firefighters Grant Award in the amount of $219,387," said West Warwick Fire Chief J. Jeffrey Varone. "The award will allow vital training that the department has not been able to afford in the past. The West Warwick Fire Department would like to thank Senator Jack Reed and the rest of the Congressional delegation for their assistance in procuring this essential funding for critical firefighter training."
Rhode Island fire departments and other first responders across the state have successfully secured over $40 million in AFG awards since 2001 to pay for equipment upgrades, protective gear, emergency vehicles, and training.