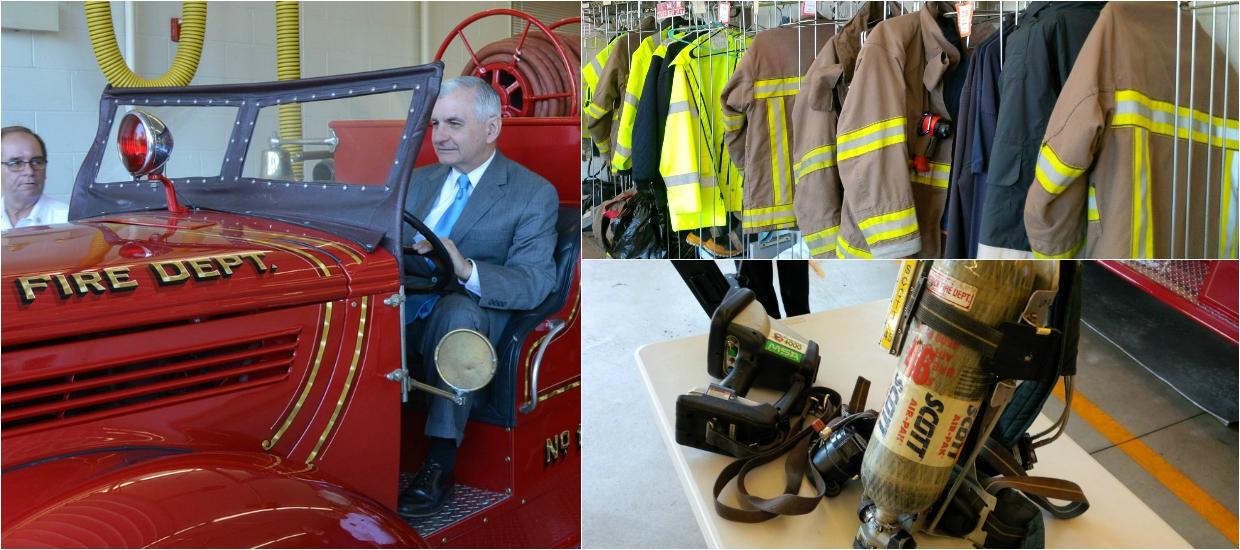 8/30/2015 —
SMITHFIELD, RI – In an effort to help firefighters train locally, expand their emergency response skillset, and save taxpayer dollars, U.S. Senators Jack Reed and Sheldon Whitehouse, together with Congressman David Cicilline today announced a $248,637 federal grant for the Smithfield Fire Department that will benefit a number of fire departments in northern Rhode Island. The Assistance to Firefighters Grant (AFG) will help the Smithfield Fire Department acquire a state-of-the-art mobile training simulator that will allow area firefighters to receive specialized training in responding to more than 200 possible disaster scenarios.
The Smithfield, North Smithfield, Albion Fire District, Cumberland, and Woonsocket fire departments will all benefit from the regional AFG grant. They are all part of the Greater Woonsocket Fire Chiefs Mutual Aid Association, which helps coordinate mutual aid runs, plans joint training drills, and responds to firefighter and EMS safety concerns. Together the departments identified a need to provide specialized training to help their firefighters master all the skills they are required to maintain while servicing the diverse communities of northern Rhode Island. The AFG grant will allow the group to purchase a mobile training simulator unit that is easily transported to each of the participating departments.
The 50+ foot mobile training simulator resembles a tractor trailer and has built-in propane burners, smoke generators, and water pipes throughout its adjustable sections. It will enable firefighters to receive training for a variety of emergency scenarios they may encounter on the job -- ranging from explosions to cave-ins to different types of fires -- all experienced as real-life situations in a controlled, safe environment. The simulator is able to re-create 200 disaster scenarios, including exercises that will train firefighters to crawl through two levels of a simulated pancaked building, and develop experience in firefighter search and survival, rescue of trapped victims, victim searches, packaging of victims under total darkness with and without smoke, downed firefighter rescue, buddy breathing, search and rescue, collapsed building with hazardous materials, window rescues, repelling wall, concrete breaching, and a sewage/drain pipe confined space rescue, among other scenarios.
"This new training unit is a smart investment in public safety. It is a great regional resource that will help firefighters across several departments enhance their rescue capabilities. I am proud to have helped secure these federal funds and commend all the fire departments collaborating in this regional effort," said Senator Reed, who supported the group's application for the grant funding. Senator Reed leads an annual fire grant workshop to help fire departments across the state apply for similar competitive federal assistance.
"Firefighters have to be ready for whatever is thrown their way so they need quality training and equipment," said Senator Whitehouse, who wrote a letter in support of the fire departments' grant application. "This funding will help our firefighters prepare for the dangers they face and better protect the communities they serve. Congratulations to all these departments on this successful grant application."
"We owe it to our first responders to ensure they have the tools and resources to serve their communities as safely and effectively as possible. I am thrilled to join my colleagues to announce almost $250,000 in new funding to enhance training opportunities for firefighters in Northern Rhode Island," said Congressman Cicilline. "This grant will fund a mobile training simulator unit that trains firefighters to respond to more than 200 disaster scenarios and will help ensure their safety in life-threatening situations."
"The northern region fire departments are very thankful to the AFG Program and the assistance of our Rhode Island congressional leaders to secure this funding to purchase a mobile training simulator. The northern region fire departments along with our Massachusetts neighbors, the Blackstone Fire Department and the Bellingham Fire Department, will now have the tools necessary to train our firefighters to deal with all the technical rescue situations that we encounter these days. Having a mobile simulator will allow each department to train personnel in their local communities as well as allow the flexibility to train all together as a group at convenient regional locations. We are all grateful to have the opportunity to receive and implement this grant as it will better prepare us to protect our citizens during the unique situations that the fire service is faced with in today's world of emergency response," said Smithfield Fire Chief Robert Seltzer.
The Smithfield Fire Department will host the simulator, perform the maintenance and inspections after each use, and develop an annual training calendar for use of the equipment. The AFG grant will also help cover initial, formal training on the simulator so the equipment is fully operational upon delivery. Last month, Smithfield firefighters received an additional $20,182 AFG grant to purchase a new personal protective equipment washer/extractor and dryer to support maintenance of their firefighters' protective gear.
Together the seven fire departments of the Greater Woonsocket Fire Chiefs Mutual Aid Association respond to 28,418 emergency runs per year throughout the region and protect a population of 138,882 people, covering an area of 122 square miles.
-end-