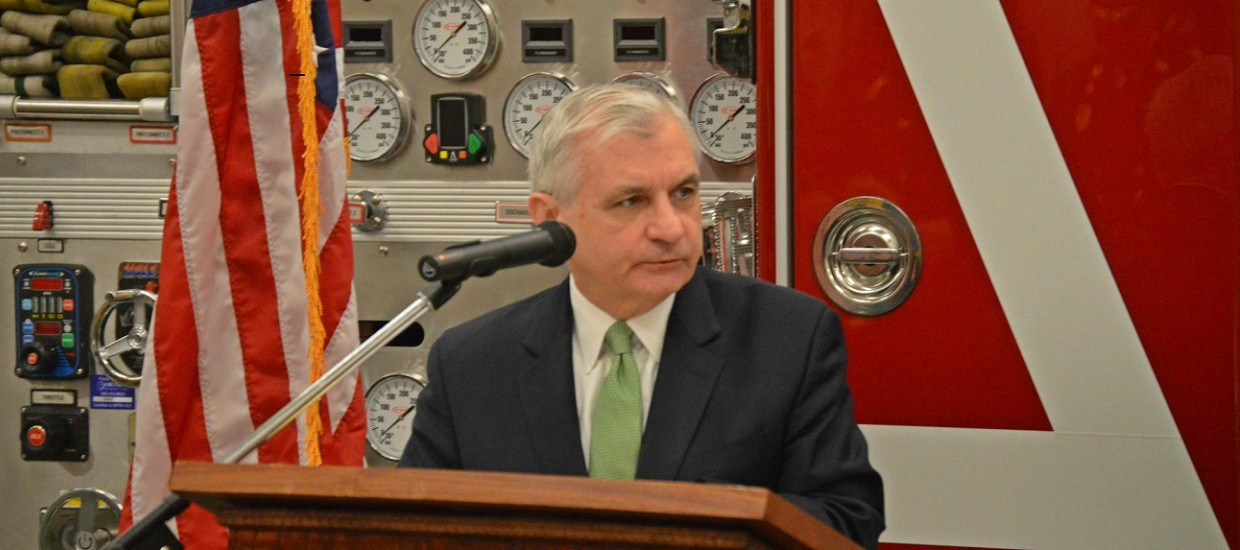 9/09/2019 —
CRANSTON, RI – In an effort to help local fire departments enhance response capabilities and improve fire protection services, U.S. Senators Jack Reed and Sheldon Whitehouse and Congressmen Jim Langevin and David Cicilline today announced $1,214,374 in federal funding to help the Cranston, Western Coventry, North Kingstown, Lime Rock (Lincoln), and Johnston Fire Departments provide advanced training and new equipment to firefighters.
The federal funds are being awarded through the Federal Emergency Management Agency's (FEMA) Assistance to Firefighters Grant (AFG) Program, which helps fire departments purchase equipment and emergency vehicles and provides training and other firefighting and fire prevention activities.
The Cranston Fire Department will use its $896,733 grant to bolster training of its Technical Rescue Team (TRT), which is responsible for responding to complex rescue incidents, such as building collapses, trench rescues, or rope rescues. To attain certification, members of the team will need to complete six classes: rope rescue, confined space rescue, trench rescue, structural collapse, heavy vehicle, and machinery rescue. The funds will also be used to purchase the proper gear and tools needed to handle complex rescues and safely extract injured parties from difficult sites.
The Western Coventry Fire Department will use its $93,736 grant to fund new training for firefighters, as well as six mobile radios and a power stretcher/ambulance lift system.
The North Kingstown Fire Department will use its $79,793 grant to fund personal escape devices for firefighters and training to effectively operate the devices.
The Lime Rock Fire Department will use its $77,743 grant to purchase two new cardiac monitors/defibrillators.
The Johnston Fire Department will use its $66,371 to replace 48 outdated Self-Contained Breathing Apparatus (SCBA) air tanks.
"These federal funds will enhance public safety and improve the departments' emergency response capabilities. I salute our firefighters and first responders. They do so much for our communities and we have their back. It is imperative they have the equipment and technical training to operate effectively and safely in a variety of scenarios. I am committed to ensuring they have the equipment, personnel, and specialized training to get the job done," said Senator Reed, a senior member of the Appropriations Committee that oversees FEMA funding who leads annual fire grant workshops for fire departments across the state to help them compete for these federal funds.
"Our firefighters and fire responders put their safety on the line to keep us safe. That's why it's so important to help them secure the best training and equipment available," said Senator Whitehouse. "Congratulations to these Rhode Island departments. I'm proud to work with the delegation to help you land this funding."
"These federal grants will provide firefighters in Cranston, Coventry, Johnston, Lincoln and North Kingstown with the resources they need to better protect their communities," said Congressman Langevin, a senior member of the Committee on Homeland Security, which oversees the AFG program. "I congratulate the winning fire departments on securing these competitive federal funds, and I will continue to work alongside my delegation colleagues to ensure first responders always have the equipment, training, and resources they need."
"Our state's firefighters and first responders are the best in the nation. We have an obligation to ensure that when they show up to work every day to keep us safe from harm, they have the tools and funding they need to do their jobs as safely as possible," said Congressman Cicilline. "I'm proud of our work at the federal level to make sure this funding is available to departments in the First District and across our state. I look forward to continuing our efforts to bring home valuable federal investments that will make Rhode Island an even safer and better place to call home."
"I would like to thank Senator Reed and the rest of the congressional delegation for their support in obtaining this Technical Rescue Grant for the Cranston Fire Department, which we will use to provide advanced training to 24 of our firefighters," said Cranston Mayor Allan Fung. "This training will elevate our department to be ready to handle major incidents involving a structural collapse, any confined space, trench or rope rescues, and even accidents involving heavy commercial vehicles. The experience that we will gain will enhance the department's ability to serve not only the residents of Cranston but also others throughout Rhode Island who we assist through mutual aid. This is another example of the importance of partnerships between the federal, state, and local government making a difference in the lives of all Rhode Islanders."
"The Western Coventry Fire Department appreciates all the support from our Senators and Congressmen for the FEMA grants. Because of their support for this program and the information they provide to the RI Fire Services the Western Coventry Fire Department has been able to attain equipment that improves our ability to provide emergency services to the public while providing safer working conditions for our emergency responders. These programs are invaluable and very much appreciated," said Western Coventry Fire Chief James Cady.
"North Kingstown fire department appreciates the hard work and efforts of the Congressional Delegation and their continued support for firefighter operations and safety," said North Kingstown Fire Chief Scott Kettelle. "This grant will provide vital equipment and training to the North Kingstown firefighters to reduce injury."
"Our department is honored to receive the 2018 Assistance to Firefighters Grant (AFG). This grant will allow us to provide industry standards emergency medical services incorporating new technology and Advanced Life Support Engine companies making our department compliant with the American Heart Association and Rhode Island Emergency Services," said Lime Rock Fire Chief Timothy P. Walsh.
"I want to thank Senator Reed and the Congressional Delegation for this grant and always stepping up to the plate to help our town," said Johnston Mayor Joseph Polisena. "These new SCBA air tanks will increase firefighter safety and in turn help protect the health and safety of the residents of Johnston."
To date, Rhode Island fire departments and other first responders across the state have successfully secured nearly $42 million in AFG awards since 2001 to pay for equipment upgrades, protective gear, emergency vehicles, and training.