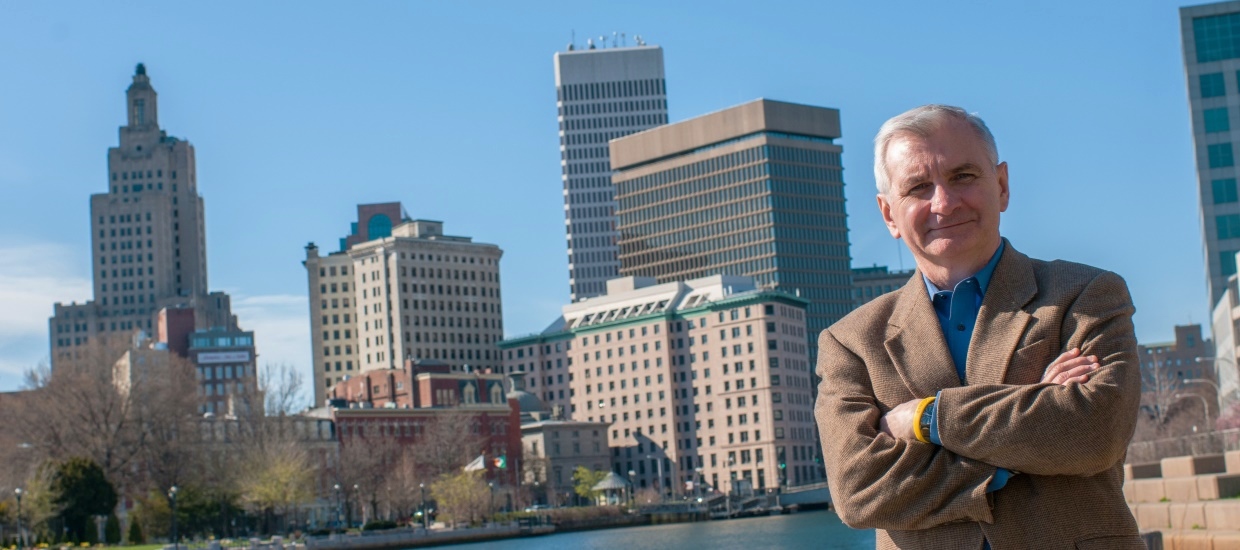 9/17/2015 —
PROVIDENCE, RI – U.S. Senators Jack Reed and Sheldon Whitehouse and U.S. Representatives Jim Langevin and David Cicilline today joined Patrick McGuigan, Executive Director of the Providence Plan (ProvPlan) and Anthony Hubbard, ProvPlan's YouthBuild Director, in announcing a $1.1 million federal grant from the U.S. Department of Labor to give at-risk young Rhode Islanders the opportunity to get a good education and develop the job skills they need to succeed.
YouthBuild Providence, which is a part of the Providence Plan, provides cutting-edge vocational training and academic opportunities for students who have dropped out of mainstream education. The program helps students earn their diploma or GED while gaining hands-on experience by participating in neighborhood construction projects. Participants receive an opportunity to earn industry-recognized credentials in construction trades while gaining hands-on experience in the construction industry.
"I am pleased ProvPlan is receiving this critical federal funding to help build on the success of YouthBuild Providence. YouthBuild's innovative programs help young people further their education and learn new job skills while giving back to the community. This is truly a model program that makes a real difference for young people and strengthens Rhode Island's workforce. This federal investment will help YouthBuild Providence expand its reach," said Senator Reed, a member of the Appropriations Committee which oversees federal funding for U.S. Department of Labor programs.
"Providing our kids with the skills they need to compete in today's job market will strengthen Rhode Island's economy for decades to come," said Senator Whitehouse. "YouthBuild Providence accomplishes this by giving young people workforce experience while allowing them to give back to their communities. It's a win-win for our state, and I congratulate the Providence Plan and YouthBuild on this important federal funding."
"All young people in America deserve the same, quality education and an equal chance at success, regardless of their race, religion, family history or socioeconomic status. Too often, these factors put students at an overwhelming disadvantage. YouthBuild programs nationwide, and the Providence Plan locally, reverse those trends and stop at-risk youth from falling through the cracks," said Congressman Langevin. "Congratulations to Providence Plan on this exciting grant award. I have every confidence that this infusion of $1.1 million will be put to good use and will provide countless benefits to young Rhode Islanders."
"Young people entering the workforce today will face new challenges that didn't even exist a few years ago. That's why it's so important that this new federal grant will provide more than $1 million so that YouthBuild Providence can prepare Rhode Islanders with new skills to compete in a global economy," said Congressman Cicilline, who advocated for YouthBuild Providence's grant. "I am proud that we were able to help deliver on this grant request and bring money back to help Rhode Island taxpayers find good-paying jobs."
Patrick McGuigan, Executive Director of The Providence Plan said, "This is a big commitment from the federal government and a real vote of confidence in the good work of YouthBuild Providence for the past eighteen years. The funding enables us to provide high quality educational and training opportunities for young people in our urban communities. This represents the best investment we can make in our future and I want to thank our congressional delegation for their long standing support of YouthBuild Providence."
"YouthBuild Providence is in tune with the demands of youth who are struggling to navigate the education and workforce systems in Rhode Island. We utilize holistic practices to empower, educate and develop all those who walk through our doors accordingly," said Anthony Hubbard, YouthBuild Providence Director. "This grant in conjunction with other funding streams will help us build upon our existing framework; enhancing our ability to ensure our students are in a solid position to explore a wide range of work-related and post-secondary options while gaining the 21st century skills they will need to be successful in any setting."
YouthBuild Providence uses federal funding to leverage private matching resources and helps students build more affordable housing for the community at the same time they are building character, responsibility, and brighter futures for themselves. The program enjoys widespread support from the public sector and non-profit community, and is leveraging the U.S. Department of Labor grant with nearly $576,000 in matching and leveraged resources.
YouthBuild Providence will use the federal funding over a two-year period, with a third year of follow up, to help provide at least 64 disadvantaged youth, ages 16 to 24, with academic training and on-site work experience, leadership, and community service opportunities.
YouthBuild Providence is one of the longest-running YouthBuild programs in the country, having started in 1997. Over 480 students have helped build 18 units of affordable housing.
-end-